Special emergency measures extended until May 2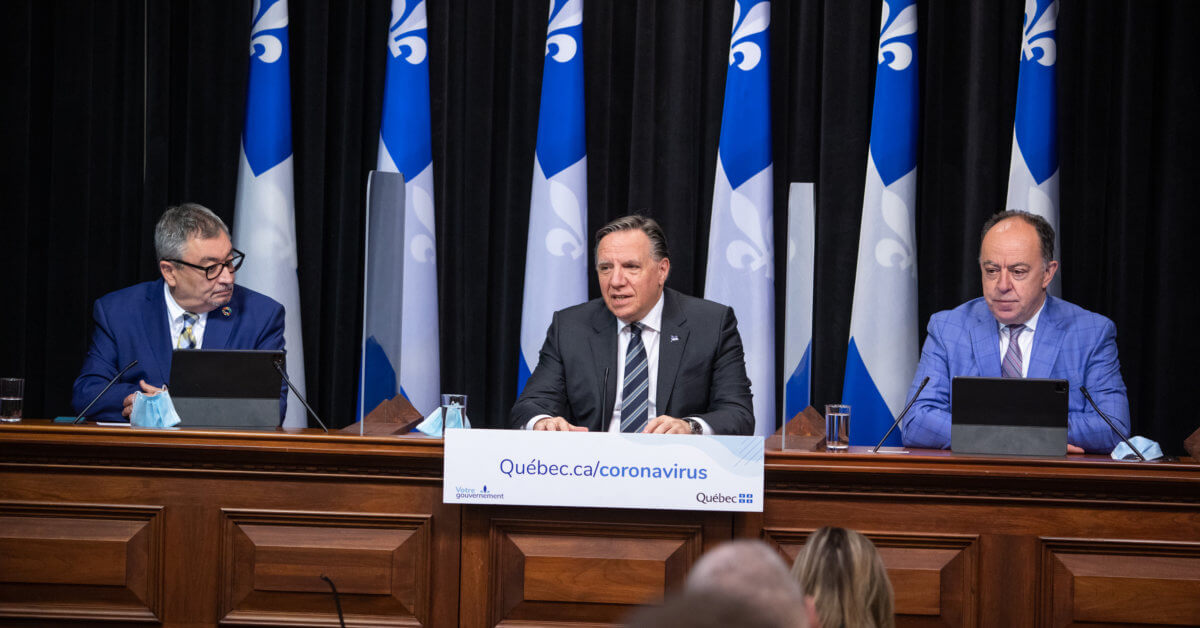 ---
20 April 2021
Quebec Premier François Legault announced today that in order to allow the situation to stabilize and to consolidate the efforts of the last few weeks, the emergency-special-measures in effect will be renewed until May 2 inclusively in the Outaouais, Chaudière-Appalaches regions and the territory of the Communauté métropolitaine de Québec
"In these three regions, there is a real risk that we will exceed the maximum capacity of our hospitals, especially for intensive care. That's why we're extending the measures in place. However, I can assure you that the first thing we will open in these areas when the contagion is controlled is the elementary schools. Until then, I ask everyone to be very careful. With the variants, no region is safe from an explosion of new cases," the prime minister said.
AstraZeneca's vaccine available to people 45 years and older starting tomorrow
It was also announced that AstraZeneca's vaccine will be available to people 45 years of age and older starting tomorrow, April 21 with or without an appointment. It should be noted that the criterion for access is age, not year of birth. This decision follows the recommendation of the Quebec Immunization Committee, which considers that the benefits of vaccination for people aged 45 and over far outweigh the risks. People in this age group who have chronic diseases are at greater risk of complications from COVID-19 and are particularly encouraged to receive the vaccine. Several Canadian provinces have also announced that the age for obtaining this vaccine will be lowered.
AstraZeneca's vaccine is already available, with or without an appointment, in several regions of Quebec. Relevant information on obtaining this vaccine can be found on the page Quebec.ca/vaccinCOVID
"The vaccine is our passport back to freedom, back to family and friends. Before we get to that point, we know what we have to do. We need to keep our distance, wear the mask, avoid gatherings. We need to get tested as soon as we have symptoms. And we have to get vaccinated as soon as it's our turn. That's how we're going to have a great summer. I'm counting on you. "
François Legault, Premier of Quebec
"The measures in place, but especially the efforts of the public, have helped slow down the third wave and the spread of variants in Quebec. However, the situation continues to be precarious in hospitals, and we must continue to do everything possible to slow down the virus and avoid a rapid rise in cases. We are in a position to open vaccination to more and more people, and this will gradually contribute to improving the situation in Quebec. Moreover, the expansion to even more vulnerable people in the coming days is excellent news. "
Christian Dubé, Minister of Health and Human Services
Highlights
The decision to temporarily suspend the administration of AstraZeneca's vaccine to people under 55 years of age, announced on March 29, had been taken as a precautionary measure, due to very rare cases of thrombosis with thrombocytopenia in European countries.
It is important that people who have received the AstraZeneca vaccine seek medical attention promptly if they experience any of the following symptoms within 4 to 20 days of receiving the vaccine: shortness of breath, chest pain, leg swelling, abdominal pain, severe or persistent headache, blurred vision, bruising or small blood spots. It should be noted that the risk of becoming infected with COVID-19 and developing complications is much higher than those associated with the vaccine.
All vaccines available in Quebec are safe and have been shown to be highly effective in reducing hospitalizations and deaths related to COVID-19. Vaccination should also contribute to maintaining health and social services activities and returning to normal life as soon as possible.