Five new regions move to the orange level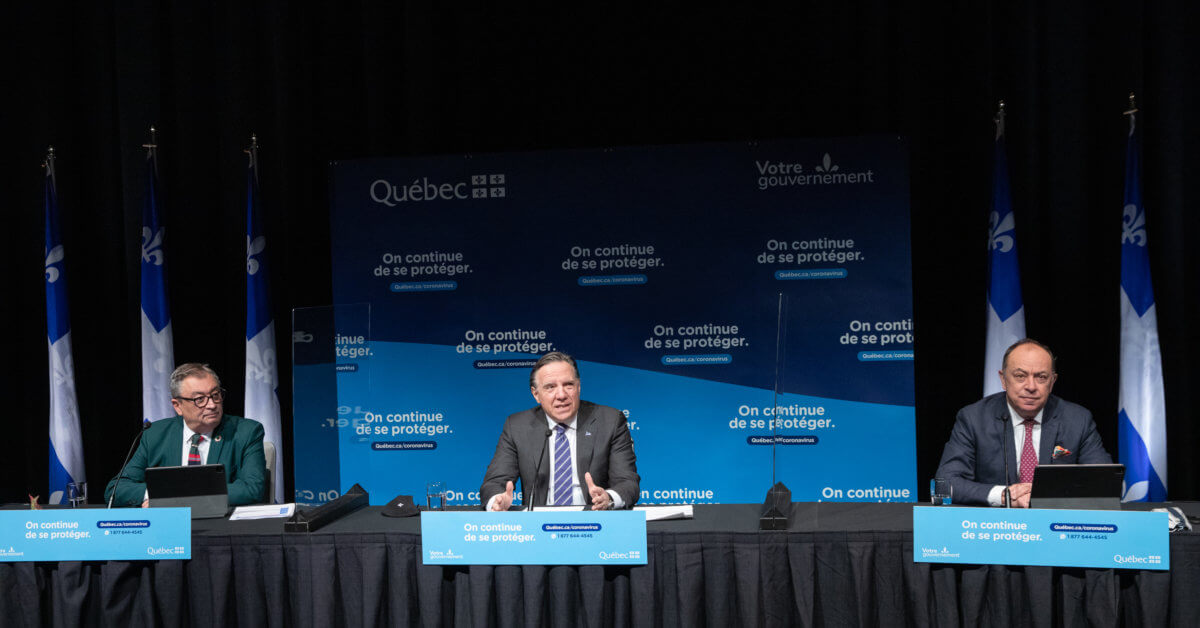 ---
3 March 2021
Accompanied by the Minister of Health and Social Services, Mr. Christian Dubé, and the National Director of Public Health, Dr. Horacio Arruda, the Premier, Mr. François Legault, announced that five new regions will go on Orange Alert. As of March 8, the regions of Capitale-Nationale, Chaudière-Appalaches, Estrie, Mauricie and Centre-du-Québec will change color codes.
In these regions, the curfew will remain in effect, but will be extended from 8:00 p.m. to 9:30 p.m. This also means, for these regions, the reopening of training rooms, theatres and restaurants (maximum of two adults per table, accompanied, if applicable, by their minor children). Also, the practice of sports and leisure activities alone, in pairs or by the occupants of the same private residence in open indoor public places will be permitted.
The Montreal, the Laurentians, Lanaudière, Montérégie and Laval regions remain on the red tier. "There are still too many active cases. As a precaution, we must keep these regions in the red zone," said François Legault.
The Premier made a point of specifying that, although the epidemiological situation has greatly improved in all the regions that will be moving to the orange level in recent weeks, the issue of variants continues to be of concern and is being monitored very closely by public health. "When we look at the pandemic situation in general, the number of cases and hospitalizations has stabilized. We have reached a plateau. In fact, the increase in the British variant, which is more contagious, has stopped the descent. Our fear is that it is on the rise again. It will be necessary to remain very careful if we do not want to return to the red zone. I want to be very clear: even in the orange areas, private gatherings will remain forbidden. Our room for manoeuvre is limited," warned the Premier.
Additional flexibilities
The relaxations that were announced on February 26 will remain in place after March 8, particularly with respect to public pools, skating rinks and cinemas, which will remain open in red and orange zones. "We hope to be able to announce soon additional relaxations, especially for young people, in the area of sports and recreation, but we must go very gradually," explained the Prime Minister.
In keeping with this approach, the Premier took the opportunity to announce an initial easing in the school environment: certain extracurricular activities in preschool, elementary and secondary schools will be able to resume, as of March 15, in class groups only, and this, throughout Quebec, in both the orange and red zones.
Also, in the orange zone, places of worship will be able to accommodate a maximum of 100 people, as of March 8, provided that sanitary measures are strictly enforced.
If the epidemiological situation remains favorable, new relaxations should be announced, starting next week, for theaters, places of worship and sports. "I know the importance of sports in people's lives, especially young people. There's nothing better than sports to relieve stress. It is essential for the mental health of many, but we must all understand that some sports can bring contact and therefore contagion," explained Mr. Legault.
A curfew will remain in effect throughout Quebec, at 8:00 p.m. in the red zone and 9:30 p.m. in the orange zone, telework will remain mandatory and gatherings, both indoor and outdoor, will still be prohibited throughout Quebec and at all times.