QUÉBEC ON THE TABLE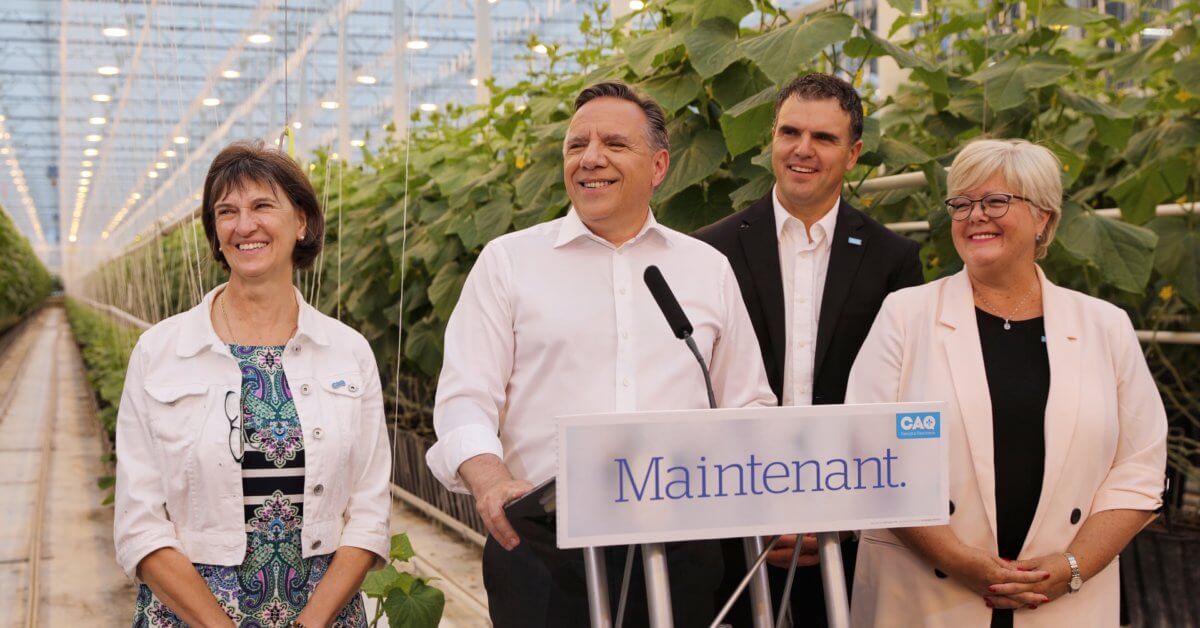 ---
5 September 2018
KEY POINTS :
∙         Adopt a Buy Québec policy for all public bodies
∙         Double greenhouse production surfaces
∙         Support vegetable production
In the presence of CAQ candidate for Huntingdon, Claire Isabelle, and of two others who are also farm operators, Sylvie D'Amours for Mirabel and Éric Girard for Lac-Saint-Jean, CAQ leader François Legault made a passionate plea in favour of supporting consumption of local vegetable and greenhouse products across Québec. A CAQ government will commit to promoting local consumption to help increase Québec agricultural production.
"Quebecers want to eat locally, but government bodies are not doing enough to put Québec products on their tables. The state must set the example," said the CAQ leader.
Legault's announcement took part at Lefort greenhouses, a family business focused on innovation. François Legault praised "a business like we'd like to see everywhere in Québec. This is an example we intend to follow," he added.
A CAQ government will take the lead by requiring a minimum level of local food purchases for all public organizations. At the same time, additional support will be provided to farm operators and food transformation businesses to help them increase production to meet increased government demand.
François Legault also seized the opportunity of his visit to Montérégie to denounce the gap that has grown between Québec and Ontario greenhouse production under the Liberal government. From 2007 to 2015, in fact, Ontario has added 318 hectares of greenhouse vegetable growing surface, compared to barely 21 for Québec during the same period. "Philippe Couillard and his government should be ashamed of such a dismal track record," he commented.
In response to this Liberal failure, a CAQ government will take the means to double Québec greenhouse production areas, by improving the current electricity costs discount program for greenhouse growers. It will also create a specific program to increase vegetable production.
"The Liberals have been in power for 15 years and we keep losing ground. If we want things to change, if we want to do more and to do better to promote our agriculture, we have to replace this government. The only party that can defeat the Liberals is Coalition Avenir Québec," Legault concluded.
QUOTE:
"Agriculture is key for Québec. Not only do they grow the food we eat, they occupy and develop our land. Farmers are entrepreneurs. They work hard and face risk year after year. They deserve all our respect and our support. They must be encouraged, and we will do so by promoting production of locally grown fresh food."
– François Legault,
L'Assomption MNA and Coalition Avenir Québec leader