General elections 2018 – The team for change is taking shape in Montreal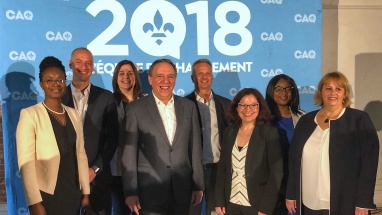 ---
12 May 2018
The head of the Coalition Avenir Québec, François Legault, took advantage of the holding of a militant event of his political party, Saturday in Montreal, to present seven new candidates for the 2018 general election: Julie Séide (Bourassa-Sauvé) , Simon Langelier (Laurier-Dorion), Vicky Michaud (Marguerite-Bourgeoys), Marc Hétu (Marquette), Sonya Cormier (Rosemont), Janny Gaspard (Viau) and Michelle Morin (Westmount-Saint-Louis).

For François Legault, these new candidates on the island of Montreal show that the tea, for change is taking shape for the next general election. "The life course of our candidates is extraordinary. The diversity of their interests inspires me. They are in the image of the metropolis, "said the head of the CAQ.
François Legault wants to make Montreal a source of inspiration for Quebec. "You know, there are two Montreal: festivals, restaurants, tourism, startups, universities, but there is also another Montreal that we do not talk about enough: Montreal every day, that of families. We need to meet the needs of both Montreal. An economic engine, a business incubator, but also a place where you can raise a family, a city where life is good, "he explained.
Montreal belongs to all Montrealers.
The head of the CAQ argues that for too long the Liberal Party has taken Montreal for granted. "One of the proofs is the state of schools in Montreal. Schools of the Montreal School Board are among the worst in Quebec. They fall into ruins. The Liberals have allowed schools to degrade for too long. More and more families are thinking of moving to the suburbs. After 15 years, it is time for these families to say what they think of the Liberal government. We have built the team for change for them, with October 1st in sight. The island of Montreal does not belong to the Liberal Party. It belongs to all Montrealers and all of Quebec, "concluded François Legault.