Anticosti: The Government Is Drowning in Quicksand.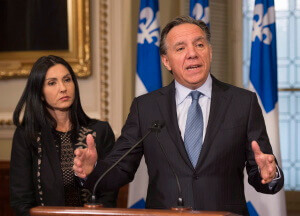 ---
17 February 2016
It isn't every day that we see a government rejecting a motion to respect its own contractual obligations. Nonetheless, it is exactly what happened on Wednesday, while numerous Liberal MNAs compromised their own convictions just to save face for their Prime Minister, regretted the member for Saint-Hyacinthe, Chantal Soucy.
The CAQ member deems the situation ever more absurd since only recently, Philippe Couillard stated his clear intention to honour his contract with the oil companies.
"The government is drowning in quicksand. This morning, Marcel Dutil, a longstanding Liberal and owner of an important outfitter in Anticosti, criticised the Prime Minister's senseless and radical position. Dutil agrees that drilling three wells would not constitute a threat to the territory and environment of the island. All the while, our Prime Minister is breaking his commitment in vain, by refusing to complete the hydrocarbon exploration on Anticosti", stated Chantal Soucy, instigator of the motion.
David Heurtel, Couillard's Second in Command?
"Today, it became clear which MNA has the most say in the new Liberal party. I emphasize new, as since last December, the political party is unrecognizable. Recently, many thought that the Environment Minister, David Heurtel, was on the verge of losing his ministry. Yet, what we saw during this afternoon's vote was that he has become a heavyweight in Philippe Couillard's cabinet, possibly his right-hand man", said the MNA astonished, as Mr. Heurtel beamed with uncompromised pride.
The member for Saint-Hyacinthe concluded by reminding that the creation of wealth for Quebec needs to be the number one priority for the Couillard government; not ripping a contract that may create wealth for years to come, after it is signed, sealed and delivered.