Anticosti Project Is Very Controversial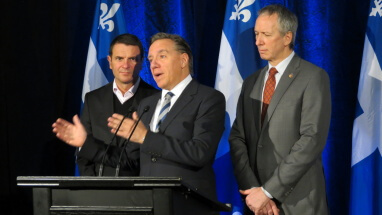 ---
16 February 2016
The Anticosti project remains very controversial.
Yesterday, the Petrolia Company deplored being subjected to wrongful treatment by the Prime Minister of Quebec and reported possible legal recourse at failure to resume the Anticosti explorations.
François Legault criticised in a press conference and in an interview for RDI's Patrice Roy, Philippe Couillard's intrusion and overkill in this matter. "To my knowledge, this behaviour is unprecedented: A business partner of the government deserves a press conference to schedule a meeting with the government. Is that how Mr. Couillard works with his partners? Need I remind him that Quebecers invested millions of dollars in that partnership? They are also the ones that will have to pay the bill if the government is taken to court by its partners. There is a line to be drawn when playing with public money for the sake of Mr. Couillard's mood swings", he regrets.
Also, Coalition Avenir Québec will be tabling a motion on Wednesday to force Liberal MNAs to render a conscientious decision for honouring their hydrocarbon development contract with Petrolia.
The CAQ house leader, François Bonnardel, had a debate with MNA for Québec Solidaire, Manon Massé, on the waves of 98.5 on Tuesday morning.
"We invested 115 million dollars of Quebecers' money in this project until now. Shouldn't we at least see the exploration to its end before taking a final decision? We have three wells to dig on the Anticosti Island. The environmental footprint is of 0.06% of the Island. Why shouldn't we create great wealth for Quebecers if the opportunity is good and sound?" he wonders.