The CAQ Campaigns "Line 434"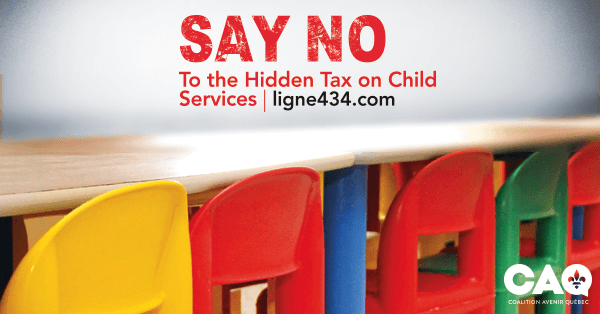 ---
29 February 2016
On Monday, Coalition Avenir Québec has made public its online campaign called "Line 434", to denounce the broken promise of the Liberal government: Tax rates on childcare services were not supposed to increase beyond inflation. The CAQ has chosen this title in reference to the new line that will appear on the personal tax declaration for 2015 and that will affect thousands of parents with up to $2,300 payable as of April 1st.
The CAQ invites all Quebecers to voice loud and clear their lack of satisfaction and their protests facing the decision made by the Couillard government: To dip in the pockets of Quebecer families, thus breaking an electoral promise. The CAQ provided the tools for the latter with a website that contains an online calculator, a petition, and visuals to share on social Medias.
The CAQ critic for public finance and member for Granby, François Bonnardel, called this tax bombshell: A ticking time-bomb for thousands of families. "We wish to expose the sneaky nature of this increase that the government tried to camouflage through a convoluted fiscal policy. It is quite an expense that is in store for parents that are already paying $7.30 per day. Many will have to pay up to $12.70 more per day, without seeing it coming. It is preposterous! We are inviting citizens to calculate "their" line 434 and to sign our petition", stated François Bonnardel, encouraging Quebecers to raise awareness by visiting the CAQ's online campaign, at: http://www.ligne434.com.
The CAQ critic for families and member for Repentigny, Lise Lavallée, has condemned this as yet another harmful action set by the Liberal monopoly. After managing Quebec's government poorly since 2003, the Liberals are compelled to put parents through a tax shock, and this in a spineless manner, she regretted.
"It is while filling the tax declaration, which is already difficult and stressful for taxpayers, that parents will notice the rate calibration for daycare services. The Prime Minister will have to bear the consequences of this decision, and voters will remember this empty promise in the next general elections", concluded Lise Lavallée.
The CAQ's "Line 434" campaign is accessible at: http://www.ligne434.com. With a few clicks of their phones or tablets, those concerned by the issue may now calculate their losses, sign a petition and denounce the Liberal government on the social Medias.