Is this the CAQ's 10th, 15th, or 20th birthday?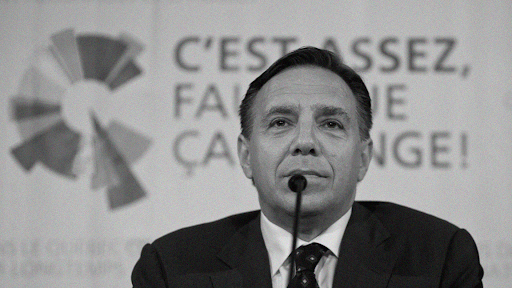 ---
19 February 2021
Before you answer, remember that the CAQ has gone through not one, not two, but three general elections. Yes, three general elections. So, how old would you think the CAQ is?
The answer is… 10 years old, but even this is not totally accurate. The CAQ will turn 10 on November 14. It might be tempting to see the glass as either half full or half empty — it could be "10 years already? Time flies," or on the other hand, "Only 10 years? They have gone through so much in so little time!"
In fact, when looking at the CAQ's history, we must admit that they had to work twice as hard from the start. And we can't forget that at the beginning, the CAQ was more of a movement than a political party.
For those who like great stories
People will say whatever they want, but there is always a great story behind the creation of something new. There is always this nervousness, where the will to succeed meets the fear of failure. There is also always a well-planned strategy, which at the right moment, receives the help it needs, what we call good luck. With its help, things fall into place and we can believe that everyone stands a chance. CAQ's story was no exception.
The idea behind the CAQ originated 10 years ago, on February 21, 2011. A group of 12 people led by
François Legault and Charles Sirois (French only) had submitted their manifesto Coalition pour l'avenir du Québec (alliance for the future of Québec) to the press. This eight-page-long manuscript laid down the foundation of a group that strongly believed that Québec can and must do better in every field, including education, health, economy, trust in institutions and its representatives, etc.
At first, the approach of Coalition pour l'avenir du Québec was apolitical and non-partisan. Its goal was to widen the scope for further debate on the future of the province. The manifest received so much support that the thought of creating a political party was increasingly present. That's when the Coalition Avenir Québec (CAQ) was officially created, on November 14, 2011.
The creation of a political party was already in discussions for a while when the CAQ decided, in October of 2011, "to integrate a silent observer into its strategic committee: the journalist Alec Castonguay," from the magazine L'Actualité. "The goal: to document the launch of a party that, even before its creation, was at the top of the polls — extremely rare for the annals of Quebec."
This is how Alec Castonguay got his nickname "La Chaise (The Chair)," from sitting in a corner, silently taking notes. After a six-month immersion, he could recount the fine tales of the CAQ in Dans le ventre de la CAQ (French only), a 32-page-long piece (a must if you like suspense or beautiful stories).
In this article from Alec Castonguay, we learn that, at first, François Legault did not want to be the leader of the party. He first tried to get Lucien Bouchard onboard.
Only after Lucien Bouchard refused did François Legault come to realize what his inner circle already knew: he was best suited for the role. François Legault's Coalition Avenir Québec was officially born on November 14, 2011.
On that day, temperatures soared to a record high of 19 degrees Celcius (French only). The good weather made François Legault happy, because everything was moving fast.
A month later, on December 13  (French only), François Legault's CAQ announced a possible merger with Gérard Deltell's ADQ (Democratic Action of Québec) party. On  December 19 (French only), four independent MNAs decided to join the rank of the CAQ: former ADQ members Marc Picard and Éric Caire, and former PQ members Daniel Ratthé and Benoit Charrette. The merge of the ADQ and the CAQ became reality on Valentine's Day, February 14, 2012 (French only). In total, 9 members (French only) joined the CAQ.
On August 12, the CAQ introduced its first electoral platform in a Plan de relance pour le Québec (French only); it included as many as 94 educational, health, economic, and integrity-of-state commitments.
On September 4, 2012,  only ten months after its creation, the CAQ had its first general election and elected 19 MNAs (French only) in a Parti Québécois minority government. In all of Québec history, a political party as young as the CAQ (only 10 months old) had never elected so many MNAs.
At this point, the CAQ was just getting used to what had happened. Québec was back in election 19 months later, on April 7, 2014 (French only), and the CAQ elected 22 MNAs in a Québec Liberal Party (QLP) majority government.
Long story short, in only two and a half years, the CAQ went through two elections and became a well-established party in Québec's political landscape.
For the first since its recent creation, the CAQ finally had four years ahead to prepare for the next elections.
October 2, 2017 by-election
The purpose of by-elections is often to send a message to the current government, especially when they are held in a stronghold of the party in power. The October 2, 2017 by-election in Louis-Hébert sent a rather clear message. After the departure of Sam Hamad — who had won five consecutive elections without much difficulty — it was Geneviève Guilbault from  the CAQ who won Louis-Hébert with an overwhelming majority of 51%. This by-election was a turning point, and with this stunning victory, the CAQ proved to be a strong contender for the next general election a year later.
September 23, 2018
A week before the vote, polls predicted a tie between the CAQ and QLP, but acknowledged that anything could happen. The outcome was so uncertain that Philippe J. Fournier from Québec125 made his guess in the form a question: "Victory for the CAQ, and popular vote for the QLP? (French only)", that foreshadowed a minority government. However…
October 1st 2018
Following a demanding and tight campaign after 6 years and 10 months of existence, the CAQ has beaten all predictions (except those of the CAQ strategists), requiring only 19 minutes to be declared the winner and 34 minutes to be elected majority (French only), winning 74 seats. On October 1, 2018, the CAQ made history.
Perhaps the most remarkable thing is the membership of so many Quebecers from all walks of life. Hundreds of thousands of women and men recognized themselves and decided to get on board. The original coalition became a true popular party and a government of locals.  It took the CAQ only 6 years and 10 months to go from the idea of a few to the government of all.
On the way to its 10th birthday
To celebrate its 10th birthday, the CAQ has decided to put its key figures in the spotlight throughout the year. As the months go by, important figures of the CAQ's great adventure will be featured in our podcasts. Depictions of those who have marked out history will be posted on social media: from the first employee, to the first "paid" employee, the first elected member of Parliament, the first accountant, the first desk lamp… not to mention Chuck, the CAQ's most loyal employee and only mascot to date.
Of course, there will also be plenty of surprises throughout the year. 10 years is still worth celebrating.
In the meantime, until the pandemic is in the past (and we can finally celebrate together), take care of yourself, keep your distance, wear a mask, and wash your hands.
Lastly, the entire CAQ team would like to thank, on behalf of all its members and collaborators, the 12 signatories of the February 21, 2011 Manifesto.
| | |
| --- | --- |
| François Legault, cofounder | Charles Sirois, cofounder |
| Bruno-Marie Béchard Marinier | Lionel Carmant |
| Jean Lamarre | Sylvie Lemaire |
| Michel Lemay | Chantal Longpré |
| Marie-Ève Proulx | Stéphanie Raymond-Bougie |
| Anie Samson | Jean-François Simard |
Thank you for bringing the CAQ into the world.
But most importantly, thank you to the thousands of members, and the hundreds of thousands of Quebecers who trust in us.