School tax: The CAQ will apply the lowest rates, no matter the region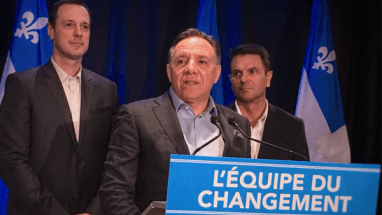 ---
23 January 2018
The leader of the Coalition Avenir Québec, François Legault, wants to put a definitive end to the inequities in school taxes by applying a single rate across Québec: The lowest currently in effect. Mr. Legault made this announcement accompanied by his spokesperson for education, Jean-François Roberge, as well as his spokesperson for public finances, François Bonnardel.
Since the arrival of the liberal government 15 years ago, the amount collected by school taxes has risen approximately 113%, about 1.2 billion dollars. Over the course of only the last 5 years, we are talking about an increase of 700 million dollars, denounced the CAQ leader. Currently, the liberals are dangling a drop in school taxes that is unfair from one region to another. How is this justified to a citizen of La Mauricie or Saguenay -Lac-Saint-Jean, who pay rates that are three times higher than those of a citizen of another region. For François Legault, the liberal solution is haphazard.
A CAQ government will will therefore reduce the school tax, over a period of 4 years, to the lowest current rate. that's 10.54 cents. This is a tax cut of 700 million dollars for Québec families, compared to the liberal promise. In doing so, the CAQ will reduce the revenues of the school tax to the levels at which they were before the arrival of the liberals to power in 2003, said the CAQ leader.
Unlike the Liberals, who are opening the door in their Bill 166 to a further increase in school taxes in the aftermath of elections, a CAQ government will decree a freeze of school taxes for the duration of their mandate.