Vaccination campaign for 5 to 11-year-olds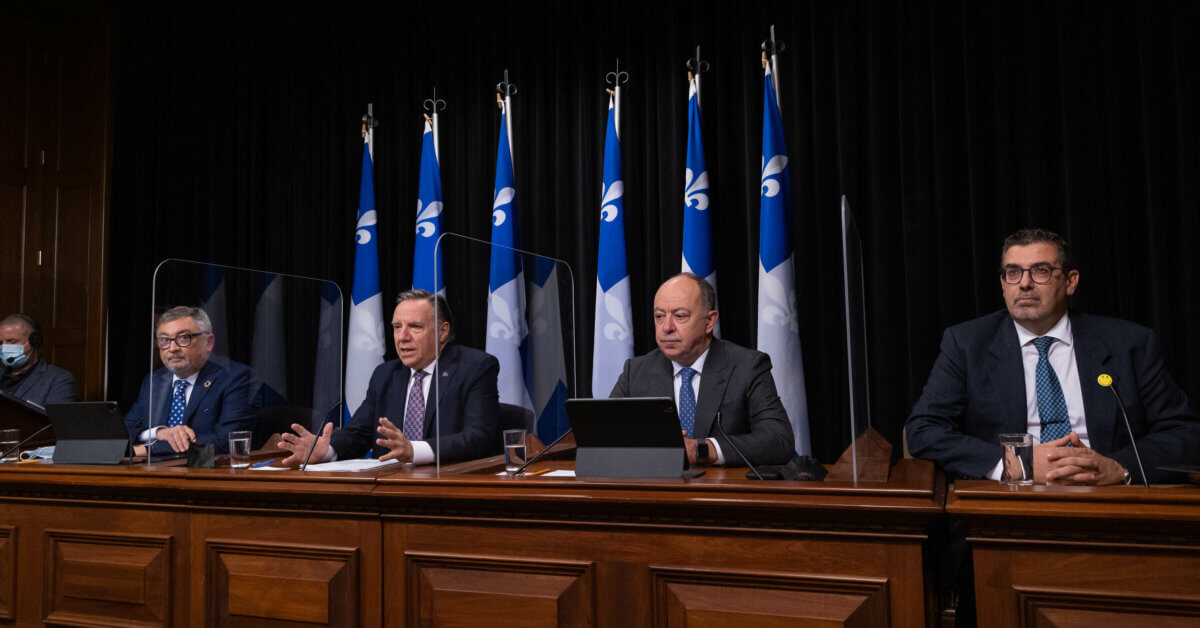 ---
24 November 2021
Quebec Premier François Legault, accompanied by Health and Social Services Minister Christian Dubé, announced today that vaccinations for children aged 5 to 11 will begin tomorrow in mass vaccination centers, and as early as November 29 in many elementary schools.
This decision follows the announcement that Health Canada has approved the Pfizer vaccine for these children, administered in reduced doses. Until now, no vaccine had been authorized in Canada for this clientele. For its part, the Quebec Immunization Committee has just published an opinion recommending the use of this vaccine for all children aged 5 to 11 years who do not have any contraindications. The recommended interval between the two doses is eight weeks or more.
Preparations for the vaccination campaign have been underway for several weeks, including the timing and logistics of administering the vaccine to children in this age group, in collaboration with the Department of Education. As was the case for the 12 to 17-year-old clientele, various modalities are offered to meet the needs of children and their parents:
offer in vaccination clinics, by making an appointment now on Clic Santé or by offering the service without an appointment, depending on the region
Vaccination organized in collaboration with the school system starting November 29.
It should be noted that not all elementary schools will offer vaccination, but each school will offer a vaccination model, whether by hosting mobile vaccination teams or by organizing transportation to vaccination sites, for example. Parents will be notified shortly of their children's school's service offering.
"It's a really important moment today, we can finally start the vaccination of children aged 5 to 11. It's normal to have questions, to want to protect our children, but if the vaccination of our children comes much later than that of teenagers and adults, it's because scientists have taken the time to study the issue. We are among those who have followed the instructions the most. We have one of the highest vaccination rates.
We are a nation that can pull together when necessary. We will vaccinate children first and then we will lift the health emergency."
François Legault, Premier of Quebec

"Vaccinating children aged 5 to 11 is a long-awaited step that will allow us to better control the number of outbreaks in schools and achieve a very high overall vaccination rate in Quebec. Our teams have been working for several weeks to be ready to begin vaccinating this clientele. The vaccination offer will be flexible and accessible. I would like to reassure Quebec families that the vaccine is effective and very safe for both the 5 to 11-year-olds and previous clients.
Christian Dubé, Minister of Health and Social Services
Highlights:
It should be noted that flexibility is planned to allow parents to accompany their children to vaccination clinics. Fun adaptations and tools have also been developed to reassure children and help them wait.
It is estimated that there are approximately 650,000 children aged 5 to 11 in Quebec. Vaccinating them would bring direct benefits to this age group by reducing the number of cases and hospitalizations. It would also lead to a reduction in transmission as well as disruptions related to outbreak risks in the school environment.
To learn more about this vaccination campaign, visit Québec.ca/vaccinjeune.