"It's time for Quebec to project itself into the future."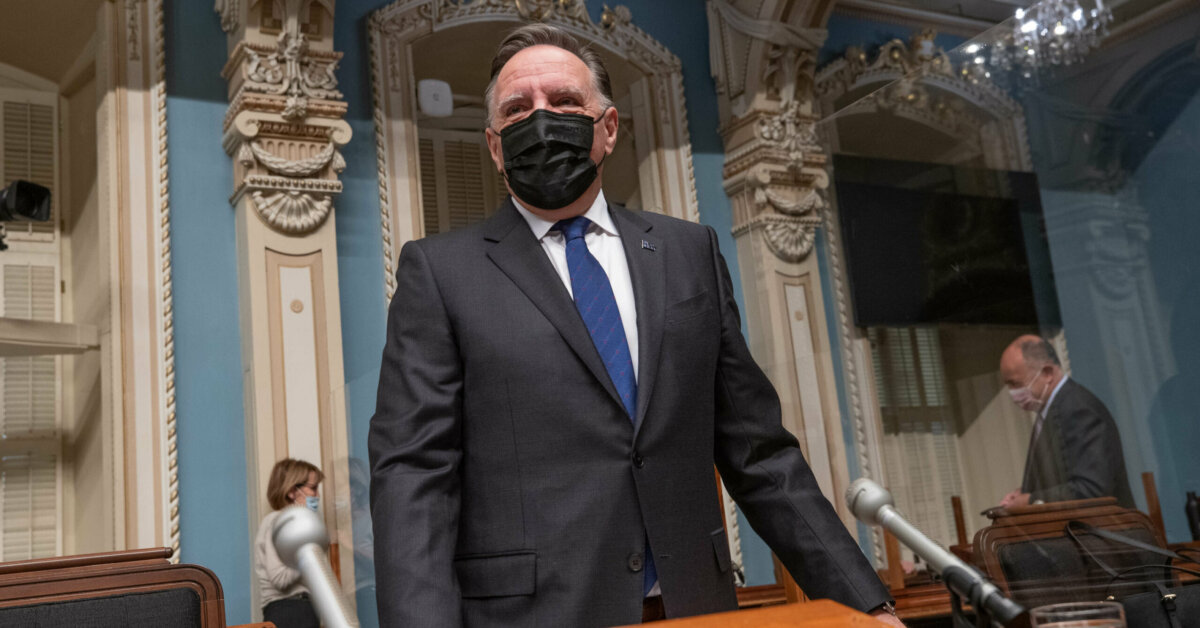 ---
20 October 2021
Check against delivery.
Mr. Chairman,
For 20 months now, 20 long months, we have been fighting the battle of our lives. This long battle, we continue to fight it together.
We have lived through painful moments and we have lost thousands of people. But we have, so far, overcome all the trials one after the other with audacity, perseverance, and courage.
We have managed to keep our children in school longer than almost anywhere else in North America. We've managed to keep treating our sick. We have managed to vaccinate our population in greater proportion than most nations in the world.
And thanks to this vaccination, we have managed to free Quebecers to form a good part of the health restrictions.
We have also managed to keep our economy open.
Quebecers are at work. In fact, Quebec is returning to higher growth than the rest of Canada. And we are doing so while keeping a tight grip on our public finances, which remain sound and solid.
I would like to take this opportunity to pay tribute to the Minister of Finance.
Behind all the announcements we made in a hurry, he worked behind the scenes with his team to make our job easier and he navigated the storm without ever losing his composure, without ever losing his course.
Of course, much of this success comes from our health care workers, our frontline workers, our public health experts, our state employees, and our elected officials.
But most of the credit goes to Quebecers themselves, to their resilience, their solidarity, and their wisdom. Thank you Quebecers!
I am convinced that Quebecers do not want us to go back to where we were before the pandemic. They want us to consolidate the progress we have made. They want us to repair what is broken, renovate what is worn out, and, above all, seize the exceptional opportunities that lie ahead.
In my 2018 commencement address, I said that our adversary is fear. Fear of change, fear of failure.
After all we've achieved, I think that fear is, for the most part, gone.
But the danger we face now is the temptation to stand still, to resign ourselves, and to do nothing.
I am convinced that if we put aside this temptation and take action, nothing can stop Quebec.
To paraphrase President Kennedy, instead of asking what Quebec can do for us, let us ask what we can do for Quebec. And, if we add up the goodwill of 8,600,000 Quebecers, we can do a lot!
The battle of our lives, this long battle we have fought with the virus, is not yet over. We will have to remain vigilant and show caution and foresight. But I am more confident than ever since the pandemic began that the worst is behind us.
And I am convinced that it is time for Quebec to project itself into the future.
Before we look to the future, I want to be clear on one point that is very important to me: the commitments we made in 2018, we will keep them.
We've already reduced school taxes. We've increased the family allowance. We put back a flat rate for subsidized child care. We increased the home maintenance tax credit. Increased caregiver credit. Reduced parking rates for health care facilities. In fact, we have put $2,300,000,000 a year back into the pockets of Quebecers. And I could go on about the other promises.
The experts agree: never before has a government respected its election promises so much. And we are going to finish the job!
Since the beginning of the pandemic, the government has had to resort to a health emergency to put in place exceptional, temporary measures to protect the population.
I am announcing that this health emergency will be lifted after the vaccination of children aged 5 to 11 years.
We are never safe from surprises with the pandemic, but if all goes well, this vaccination should be completed by early 2022.
Perhaps the most striking thing about the last 20 months for Quebecers has been the failures, but also the successes, of the health care system.
The system has shown its limits, first in the CHSLDs. The lack of personnel has led to inhumane situations where vulnerable elderly people have lacked care and have been left to fend for themselves in the worst conditions. At one point, we were short about 10,000 attendants.
We also saw that the information systems were outdated. There were CHSLDs that did not have a person in charge of protective equipment and even CHSLDs where there was no boss on site.
The system has shown its limits, first in the CHSLDs. The lack of staff led to inhumane situations where vulnerable seniors were left to fend for themselves in the worst conditions. At one point, we were short about 10,000 attendants.
We also saw that the information systems were outdated. There were CHSLDs that did not have a person in charge of protective equipment and even CHSLDs where there was no boss on site.
To make up for the lack of personnel, the "I contribute" system was invented, and the response from Quebecers was extraordinary. Everyone worked together, looking for solutions rather than problems. And we had incredible success. Tens of thousands of Quebecers came to help us.
And when I asked, in the summer of 2020, for a fast-track training program to hire thousands of attendants, there was resistance at first. But when everyone got into solution mode, we got a demonstration that our education and health systems are capable of turning around quickly. In a few months, we trained and integrated 9,400 new employees. This is one of my greatest accomplishments!
At the beginning of the crisis, we also had inventories of protective equipment – masks, gowns, gloves, visors – that were very tight. We had to set up operations worthy of action movies to succeed in importing masks. We set to work and succeeded. Not only did we succeed, but today Quebec manufactures its own masks, gowns, and visors. What a source of pride!
I said earlier that we were short about 10,000 attendants. Why about? Because we didn't know the exact numbers.
Every morning, in the crisis unit, I tried to find out how many people were missing. I was trying to find out how many facilities were affected. I didn't have any answers. In fact, when I insisted on knowing why we were having so much trouble getting numbers, the answer was amazing: we were working with faxes in 2020!
Then, when Quebecers were asked to stay home, it became obvious that we had a problem with in-person medical consultations.
In just a few weeks, we made a major shift by increasing the number of online and telephone medical consultations. And the physicians collaborated in this shift. In just a few weeks, we succeeded in implementing what would otherwise have taken years. We also succeeded in transferring procedures that were done by doctors to nurses, to better use everyone's skills.
All this to say that while we have seen the flaws in our systems as never before, we have also seen our ability to be creative and to have success. It is the demonstration that when we all work together and above all when we put aside the temptation of immobility, we are capable of changing things!
During the first three years of our mandate, we have made many changes, as promised. But over the next few years, we will have to make many more changes. And the most important change will be in the area of health.
Before the pandemic, there was a lot of skepticism about the ability of a government to make major changes to the health care system. Now, we know that it is possible. Our challenge now is not only to make some of the changes permanent but to go even further.
Whether in the private or public sector, it has been shown that effective management begins with decentralization. At present, the health care system is far too centralized.
The responsibility of the Ministry of Health and Social Services should be to set performance objectives and monitor results. But the people who are in the best position to choose the best ways to achieve these objectives are the people on the ground, the people who are close to the action.
The government will proceed with a vast decentralization of the health network to the regions and sub-regions of Quebec.
The greatest challenge for the health network is to employ thousands of health care workers efficiently and humanely.
When we look at the current management of human resources in the health network, we see a dysfunctional system, where 40% of employees are part-time, where there is no flexibility, and where there is no choice but to impose overtime. And you end up with burned-out employees, employees who end up leaving the system.
It's a system that is not human enough and that is not efficient enough. It's a vicious circle that we have to break.
To break this vicious circle, the first thing that had to be done was to negotiate new collective agreements.
The new working conditions for nurses, attendants, and other health professionals will make it possible to have a new, more humane, and more efficient work organization.
But to achieve this, we need everyone to agree to change the way things are done: unions, managers, professional orders, employees. Everyone. Because everyone wants to reduce mandatory overtime to the bare minimum. We'll get there together.
In the short term, this will allow us to bring back staff to the public network. And in the long term, we are looking at setting up new incentives to attract more students to health training.
We also need an emergency valve when exceptional situations arise.
Private agencies can help out, but for too long, Quebec has become dependent on these private agencies. We must free ourselves from them. We must build a strong public network, capable of responding at all times to the needs of Quebecers.
We are currently working on a mechanism to provide emergency assistance from the public network. We must no longer depend on private agencies.
We saw at the beginning of the pandemic that the government and doctors could turn around quickly when we wanted. But unfortunately, the will to change is not always there among some family physicians. This is true for patient management.
This is a key to relieving emergency room congestion and providing better front-line services to Quebecers.
We have had many discussions with family physician representatives over the past three years, but I must say that I am getting impatient and so are Quebecers. I always thought it was better to get along with the doctors. But if we have to, we will not hesitate to impose a conclusion.
Quebecers expect to be taken care of and to receive front-line services within a reasonable time.
Furthermore, we have reached an agreement with medical specialists that will allow us to recover significant sums of money to bring their pay gap with Ontario specialists to the same level as other workers. It is expected that this agreement will be fully respected by the medical specialists.
At the beginning of my speech, I talked about the need to make profound changes in Quebec by taking advantage of what we have learned in recent months. We must not bury our heads in the sand: during the pandemic, our seniors in CHSLDs were not always well served.
We have seen that there are significant gaps and differences between seniors' residences, often without government intervention. In order to ensure quality care for our seniors, we will therefore contract out certain private long-term care facilities.
Furthermore, the drama in the CHSLDs forces us to look to the future. When we know that the number of people aged 75 and over will double in the next 20 years, it is clear that the needs will increase. If we do nothing, public spending will explode. And this will not be financially sustainable.
To replace the outdated CHSLDs, we are currently building seniors' homes with more space and a better quality of life. This is essential when there is a really significant loss of autonomy.
But more needs to be done for seniors who want to and can stay at home.
I am convinced that aging at home is what the vast majority of Quebecers want. But at a time when we need to make a major shift towards home care, we must first ask ourselves questions about our ways of doing things. Is the home care model in Quebec effective? Are the funding formulas effective? Are the rates fair?
All of this must be examined quickly by the best experts so that we can make the right choices.
The government will mandate the Health and Welfare Commissioner to study home support and to make concrete recommendations.
It is also important that the federal government not interfere in the management of the health care system.
The federal government funds only 22% of health care spending but receives 40% of Quebecers' taxes. The federal government must increase its transfers to Quebec for health care, but it must not add public servants to try to manage our health care system.
The management of the network is already complex enough. The Quebec government will continue to fight to ensure that the federal government respects Quebec's exclusive jurisdiction over health care!
The other big challenge is data and the use of digital technologies.
It's impossible for me to imagine an organization being effective without good data.
Technologies will also allow us to make life easier for Quebecers. Telemedicine has enormous potential to facilitate access to a health care professional quickly and easily.
Technologies will also give Quebecers better access to their own health data and to services offered in their region. Digital technologies are necessary if we want to offer Quebecers the health services they are entitled to.
What is true for health care in terms of digital transformation is also true for the government as a whole and for Quebecers. Here again, we can draw inspiration from a success story.
When we decided to put all government employees who could telework on the job, we managed to do it in a few weeks, which would normally have taken years. We've made good progress in the digital realm, but the pandemic has shown us that we need to accelerate the state's digital transformation. We must do so for three reasons.
We absolutely must implement secure practices throughout the public sector to prevent cyberattacks and theft of personal data. This is paramount in this day and age.
We must decompartmentalize government databases to better serve Quebecers and to better manage our huge organizations. In the long run, it will also allow us to save money.
And, ultimately, we will offer Quebecers digital citizenship, which will allow them to access government services much more easily. For example, with a digital driver's license or health insurance card on their phone, Quebecers will be able to deal easily with the government online.
With the current government structure, we have reached the end of our possibilities. To protect government systems and citizens' data from cyberattacks, to manage our organizations more efficiently, and to simplify the lives of Quebecers, we will create a full-fledged Ministry of Cybersecurity and Digital Affairs.
There is the State, but there are also and above all Quebecers.
The pandemic has revealed how essential high-speed Internet access has become. Telecommuting, distance learning, telemedicine, online shopping, and all the services accessible only through the Internet have completed the demonstration that high-speed Internet is an essential service in all regions of Quebec.
When we made a commitment in 2018 to make high-speed Internet access to all Quebecers by the end of our mandate, many were skeptical. Other governments had promised it before us, without success.
In the beginning, we ran into many obstacles. I got personally involved, I met with the telecom companies and we are going to be the first province to do it.
For the past year and a half, our children, teenagers, and young adults have made many sacrifices. They have been admirable, supportive, and disciplined. They have shown admirable resilience. They have made sacrifices to protect their elders.
Our great nation has some fine young people. I think collectively, we owe them a debt of gratitude. And in the coming years, all of Quebec must return the favor to our young people!
At the beginning of our mandate, we eliminated the tax that was taking thousands of dollars from the pockets of middle-class families for daycare fees. We lowered the fee to $8.50 for everyone. We also provided thousands of dollars to parents through the Family Allowance. We have increased support for children with disabilities and created child care spaces, but we need to go further.
The government must step up the pace.
In the next few days, the Minister of Families will launch a vast offensive to quickly create the 37,000 spaces that are lacking in childcare services. All parents who wish to do so will finally be able to have a child care space.
But it is also a challenge to recruit child care workers. We are currently negotiating a significant increase in the salary of educators. We are going to do everything we can to ensure that our educators are recognized for their responsibilities, which are to take care of the most important thing of all: our children.
We are also looking at the possibility of increasing the tax credits for parents who use non-subsidized child care services.
But it is also a challenge to recruit child care staff. We are currently negotiating a significant increase in the salary of educators. We are going to do everything we can to ensure that our educators are recognized for their responsibilities, which are to take care of the most important thing in our lives: our children.
We are also looking at the possibility of increasing the tax credits for parents who use non-subsidized child care services.
In the last 3 years, we have already made many changes in Education. We have put in place the Act Early program to detect learning disabilities in young children.
We have increased the number of speech-language pathologists and specialists to help children with learning disabilities. Accelerated the implementation of 4-year-old kindergarten.
We started building new, brighter schools. There was a lot of action.
Then came the pandemic.
I can't remember in living memory seeing the education system so shaken.
Students, parents, teachers, support staff, and administrators had to adapt constantly. And when you look at the results, we have weathered the storm.
With the teachers, with the entire education community, we managed to save the school year for Quebec children.
We also signed a new collective agreement with the teachers which, in the words of a union president, will mark the history of the teaching profession.
I would like to take this opportunity to point out in passing that the government is in the process of increasing salaries and improving working conditions in jobs that are mostly held by women, such as nurses, attendants, educators, and teachers.
It's about time that these predominantly female professions were valued!
But even so, the missed school days have had consequences. I am referring first of all to the delays that some students have experienced in their learning. The Minister of Education has already set up a mentoring and remedial program.
But I am also talking about the impact of the pandemic on the mental health of some of our young people. We have a duty to do everything we can to support our youth.
We will continue to hire speech therapists, psychologists, and professionals to help young people who have difficulties. There is nothing more important!
We must also go further to give our young people every opportunity to reach their full potential.
Currently, 82% of our young people leave school with a diploma or a qualification. This is an honorable result when compared to other countries in the world. But it would be a mistake to be satisfied with this.
Instead, we should aim to reach the highest international standards. And the target we have set ourselves today is that 90% of our young people leave school with a diploma or a qualification.
We are going to use several means to achieve this.
The first is to change the vocational training of our young people from top to bottom.
There are many very talented young people who are not made for school as it exists.
There are also many trades that are best learned in practice. We will reinvent vocational training by combining it with practical training.
We will also put in place a permanent tutoring program to help our young people reach their goals.
We will also complete the addition of 5 hours per week in all high schools. These hours allow for more homework help, more sports, and more arts activities.
And when I talk about rallying behind our youth, I'm not just thinking about elementary and high school.
We must also do more in our CEGEPs and universities. We will continue to invest in education, at all levels.
Education is the best investment we can make in the future of our society.
The pandemic has caused many people to experience mental health problems. It is difficult to remain isolated from others. Some have experienced family tensions.
The Minister of Health and Social Services is putting in place a mental health action plan for this fall with a special focus on youth.
There have also been many sports and cultural activities that have been canceled.
We will make a special effort to catch up on these activities.
Furthermore, no one will be able to forget the death of a 7-year-old girl in Granby in April 2019.
The commission chaired by Régine Laurent has shown that many things were not working well in youth protection. This work will be followed up and important changes will continue to be made to better protect our children.
The pandemic has also exacerbated domestic violence. We responded quickly.
A further step will now be taken with the establishment of a specialized sexual assault and domestic violence court.
Victims must have confidence in the system and must not hesitate to denounce.
We will also continue our campaigns to make violence against women completely and totally unacceptable in Quebec!
Quebec's economy is booming, but we must be prepared for a new economy. With the pandemic, changes have accelerated. This gives us a unique opportunity to project our economy into the future.
Quebec already had an economic gap to fill. This is one of the main reasons why I am in politics.
I do not accept that Quebec is less rich than its neighbors. There is no reason to accept that. What we want is a Quebec that wins!
Since the beginning of our mandate, we have succeeded in reducing the wealth gap between Quebec and Ontario from 16% to 13%.
We must continue this catching up and we must accelerate it.
The solidarity of Quebecers during the pandemic was also felt in the economy.
Buying Quebec, supporting our entrepreneurs, merchants and manufacturers were more present than ever.
We understood that it is risky to depend too much on foreign countries for certain products. And the pandemic has shown us that our entrepreneurs know how to adapt: our Quebec companies have shown us that they are capable of producing better quality products, at a good price and without the pollution associated with the international transportation of goods.
And the government has done everything it could to help our agricultural producers and food processors supply us with Quebec food.
Food security and autonomy are crucial. We asked Quebecers to make an effort to buy local food. And it worked!
We must continue to increase our food autonomy. And we are now going to extend this to the entire economy.
In the coming months, the government will first launch a campaign to promote products made in Quebec.
There are many products that are imported from abroad that could be made here.
We will financially support our companies that are ready to replace imported products.
We must focus on ourselves.
Made in Quebec is a win-win situation for Quebec.
The world has changed and a real revolution is taking place in the labor market. We have gone from a market where there was a lack of jobs to a market where there is a lack of employees.
I understand that employers want more workers. It's easier when you're running a business to have 20 people applying for a job.
That's the way it was when unemployment was high. For years, when a job was available, it was the workers who were chasing the jobs.
Today, it's the other way around, it's the companies that are chasing the workers. Employers used to get the short end of the stick. Now it's the workers who get the short end of the stick.
But there is good news: in Quebec, salaries are rising and working conditions are improving, and this will continue. As Premier, I am delighted for the 4.5 million Quebec workers.
And these wage increases are welcome in a context where the cost of living is rising, especially the cost of groceries and housing. The Minister of Finance is looking at ways to help Quebecers cope with this rising cost of living.
As for the lack of manpower, I have sympathy for the bosses. And we will help them.
First, we're going to help our businesses become more productive. And we're going to help Quebecers train, qualify, and requalify for jobs they like, jobs that are more rewarding, jobs that pay better.
So we're going to act.
But our first challenge is to quickly fill the positions that offer direct "essential" services to our population. We have already begun and will continue to announce plans to fill the positions of nurses, daycare workers, teachers, psychologists, mental health social workers, and the DPJ.
There is also a need to help fill key positions in the private sector.
The Minister of Employment and Social Solidarity is preparing a plan to add 100,000 more skilled workers in three sectors: construction, information technology, and engineering.
In the past, Premier Bourassa promised to create 100,000 jobs. 50 years later, we are working to add 100,000 qualified workers.
As I said earlier, we will also act to help parents return to work. We know that quality childcare services allow parents, and especially mothers, to participate fully in the labor market.
Quebec women already have the highest employment rate in North America, thanks in large part to subsidized child care. Quebec women are closing the income gap.
They are filling our universities. We must continue in this direction. And we should be very proud of that.
We also have measures to encourage people aged 60 to 69 to continue working or to return to work. I have asked the Minister of Employment and Social Solidarity and the Minister of Finance to see if we can do more.
Now, while several regions of Quebec are short of manpower, other regions are still short of jobs, especially quality jobs.
We will make sure that every MRC in Quebec contributes to this new economy.
Moreover, telework presents an exceptional opportunity for all regions of Quebec to offer quality jobs. Having quality jobs in all regions of Quebec is the best way to occupy our territory.
As promised, the government will soon present a plan to transfer thousands of public service jobs to the regions.
In addition, by combining the activities of Investissement Québec and the Ministère de l'Économie et de l'Innovation in each region of Québec, we have given ourselves the power to respond quickly to all entrepreneurs and business leaders who have projects in the regions.
More than ever, your government will be the government of the regions.
There is also a growing population in Quebec that needs future prospects for its young people. And Quebec needs them.
I am talking about the Aboriginal nations and the Inuit.
Several communities have developed impressively in the last few decades.
Our Grand Alliance with the Cree is a remarkable example of a nation-to-nation partnership. And most recently, the agreement with the Innu for the Apuit wind project and Hydro-Québec's partnership with the Mohawk community are also examples of partnerships that benefit our respective peoples.
Many Aboriginal nations are experiencing a demographic boom and we must help young people reach their potential, in their own way, while respecting their culture.
Hydro-Quebec has shown a willingness to train and employ more Aboriginal and Inuit youth. I invite all companies to look to Aboriginal and Inuit communities to partner with them and to offer jobs to this youth full of potential.
Of course, there is also economic immigration that contributes to increasing the number of workers.
We hear voices calling for more and more immigrants. What we hear less often is that Quebec is already one of the places that welcome the most immigrants.
As a proportion of the population, Quebec receives more immigrants than the United States, France, or the United Kingdom.
But we must respect Quebec's capacity to integrate. Our immigration system must be adapted to the unique realities of a francophone nation in North America.
The federal government must understand this.
Quebec cannot have the same immigration model as English Canada. The survival of the French requires a different approach.
The government of the Quebec nation must have more power over immigration.
This historic responsibility of any Quebec premier, I will continue to assume it fully and proudly!
Another major change must take place throughout the world to respond to the climate emergency.
In the past, nations dreamed of producing oil, coal, and gas to get rich. Today, the opposite is true. We are looking for ways to switch to green energy.
Quebec, with its abundant green energy, has an incomparable asset.
If oil has allowed states to become rich in the past, the 21st century will be the century of green economies. The 21st century will be the century of Quebec!
In this context, it is important to remember that among all the American states and among all the Canadian provinces, Quebec is the state that emits the least greenhouse gases per capita. Quebec is first!
This is a great legacy of our predecessors who had the foresight to put forward major hydroelectric projects. We can be very proud of this reality!
When I was still in opposition, I spoke about our vision of making Quebec the green battery of Northeastern America.
At the time, there were skeptics who believed that hydropower was a thing of the past. Well, that vision is becoming a reality.
Since the beginning of our mandate, we have signed agreements with Massachusetts and New York to export our clean electricity. There are still steps to be taken, but when it's done, these contracts will bring in tens of billions in additional revenues for Hydro-Québec, a company that is 100% owned by Quebecers.
So it pays off for Quebec. It also pays for our neighbors, who will have stable, clean energy. And it pays for the planet because these agreements will significantly reduce greenhouse gases.
For New York alone, we're talking about the equivalent of taking a million cars off the road!
This is a huge contribution from Quebec to the fight against climate change that we should be very proud of!
But that doesn't mean we should stop our efforts. On the contrary, we must go further.
We have set ourselves the goal of reducing our GHG emissions by 37.5% from 1990 levels by 2030 and achieving carbon neutrality by 2050.
To reach these objectives, Quebec must resolutely take the path of a green economy.
The Quebec government has therefore decided to definitively renounce the extraction of hydrocarbons on its territory. We must therefore capitalize on our strengths while transforming our economy in depth.
From now on, we will focus on electricity and renewable energies.
Quebec's electricity already allows us to generate revenue through our electricity exports, which constitutes a wealth annuity for future generations. But our green energy also allows us to attract business investment.
In the future, companies that want to produce goods without emitting GHGs will find Quebec an incomparable host country.
The Green Economy Plan launched in 2019 is the most ambitious in Quebec's history. It is a concrete and realistic plan. A plan that we will continue to improve every year.
There have never been so many public transit projects and worksites in Quebec, including in Greater Montreal and in our Capitale-Nationale. But we want to go even further.
The government's ambition is to make Quebec a hub for electric transportation, the battery industry, and green hydrogen production.
On the world scene, several countries are concerned about China's great weight in the critical minerals market. Many of these minerals are essential for the manufacture of green economy products, for example in batteries.
Quebec has significant deposits of critical minerals. The government intends to extract these deposits, but also to transform them here to create more wealth.
But one of the keys to making Quebec a more prosperous place is innovation. If we want to catch up with our neighbors in terms of wealth, our economy must be more productive. And that means innovation and technology.
To be more productive, Quebec companies must invest in automation and robotization. And we have a golden opportunity, with the scarcity of labor, to launch a major offensive right now.
Because productivity gains are a very effective way to create wealth, but also to respond to the labor shortage.
We have also been working since the beginning of the mandate on projects that will bring together researchers and companies. Projects for innovation zones will soon become a reality.
And the government is in the process of completing a vast consultation for the Quebec Research and Innovation Strategy. We are working on a comprehensive plan to make Quebec a leader in innovation.
Finally, the government is deploying several measures to increase our exports. Quebec's delegations abroad are becoming more and more focused on identifying potential clients for our companies.
To become richer, Quebec needs more large companies. We need to create more Quebec flagships. This will allow us to increase the salaries offered to Quebecers.
So, a richer Quebec, richer Quebecers, that's also a winning Quebec!
In closing, the pandemic has revealed another fundamental reality: the importance of national cohesion. The solidarity we saw in Quebec would not have been possible without strong national cohesion and a strong sense of belonging to a national community.
This national cohesion is rooted in our common history, in our culture, in our way of living together, and in our language. This national cohesion is very precious and must be cultivated from childhood.
We must give our young people more knowledge about our history, our culture, and how Quebec society works. We must transmit a sense of pride, of shared citizenship.
To achieve this, the Minister of Education will replace the ethics and religious culture course with a course focused on Quebec culture and citizenship.
It is also crucial to strongly support Quebec culture.
Since the beginning of our mandate, we have given more means than ever to our creators and our cultural industry. For a nation like ours, government support for culture is fundamental.
Culture spreads pride and pride is a powerful engine for society. It is a determining factor for national cohesion.
With the Espaces bleus in the different regions of Quebec, we want to create popular places where Quebecers will be able to better know and remember the successes of the history of our nation and of each of our regions.
An important place will be given to those who have sung our Quebec as well as to those who have transmitted the emotion and pride of being Quebecers.
We will also take advantage of this opportunity, whenever possible, to restore a beautiful building of our heritage. And we will show the beauty of our territory in our Blue Spaces.
Speaking of the beauty of our territory, the attachment to our territory, to our heritage, and to our regions also strengthens our national cohesion.
Unfortunately, the beauty of public buildings has not always been there.
Jean-Paul L'Allier used to say: "What belongs to everyone should be more beautiful than anything else".
This is true for new buildings, but it is also true for buildings that have marked our histories such as churches, convents, and old schools. All of our beautiful buildings need to be better protected and promoted.
We are therefore going to present a national policy of architecture and regional planning to preserve our built heritage, but also to preserve our landscapes and make our cities and countryside even more beautiful.
The closing of the borders has allowed many Quebecers to discover or rediscover our majestic territory and our magnificent regions. We will take advantage of this craze to encourage Quebecers to continue to enjoy the beauty of Quebec's regions. We will develop family tourism.
We will set up projects in the various regions of Quebec so that Quebecers have more access to nature and enjoy the beauty of our territory.
To define our way of living together, we adopted Bill 21 on the secular nature of the State.
This law, which is supported by a large majority of Quebecers, is part of our history of collective rights.
Yes, there are individual rights that are fundamental, but there are also collective rights that must be taken into account.
Bill 21 is, unfortunately, being challenged in the courts.
It will be important to fight this legal battle. Quebecers can count on their government to wage this battle without wavering!
The government has also introduced Bill 96 to strengthen the status of the French. This is the most important bill to reinforce the predominance of French in Quebec since Bill 101.
In addition, it will enshrine in the Constitution that French is the official language of the Quebec nation.
Quebecers can count on the Minister responsible for the French language and their government to defend and promote our language!
I want to speak to the historic English-speaking community of Quebec.
You are an integral part of Quebec. As a historic community, you have your own institutions: Schools, colleges, universities, hospitals, the media. Canada's francophone minorities dream of mastering so many institutions. No minority in Canada is better served than English-speaking Quebecers and we are proud of that.
No matter where we come from, no matter what our skin color, whether we are of ancient or recent origin, we are all entitled to the same dignity, the same respect, and the same citizenship.
Quebec is one of the places in the world where there is less racism. But there is still racism. We must continue to fight racism. And we must do it together, by building on what brings us together.
We must pay special attention to Aboriginal people, to those nations with whom we share a territory, a history, and, for many of us, common ancestors.
We must recognize that Aboriginal nations have suffered a particularly cruel form of racism with policies that sought to erase their identity, their culture, and their history. We owe it to the truth to know this history and to face it.
We must also recognize that this terrible history has caused deep wounds that have been passed down from generation to generation.
This history has also caused persistent prejudices. We must fight these prejudices and we must fight the discrimination and racism that too many Aboriginal people are still experiencing today, in order to move forward and to start being partners again, in a respectful way, from nation to nation.
In conclusion, the pandemic has been a long battle with casualties and damage. I don't think any of us are completely unscathed.
But this long battle has shown how crucial our national cohesion is. When Quebecers pull together, they are capable of great things.
Now that the worst of the pandemic is behind us, it is time for Quebec to look to the future. I invite all Quebecers to participate in these changes to continue building the Quebec we love.
A more prosperous Quebec. A greener Quebec. A prouder Quebec!
Thank you.