All regions at the yellow or green level as of June 14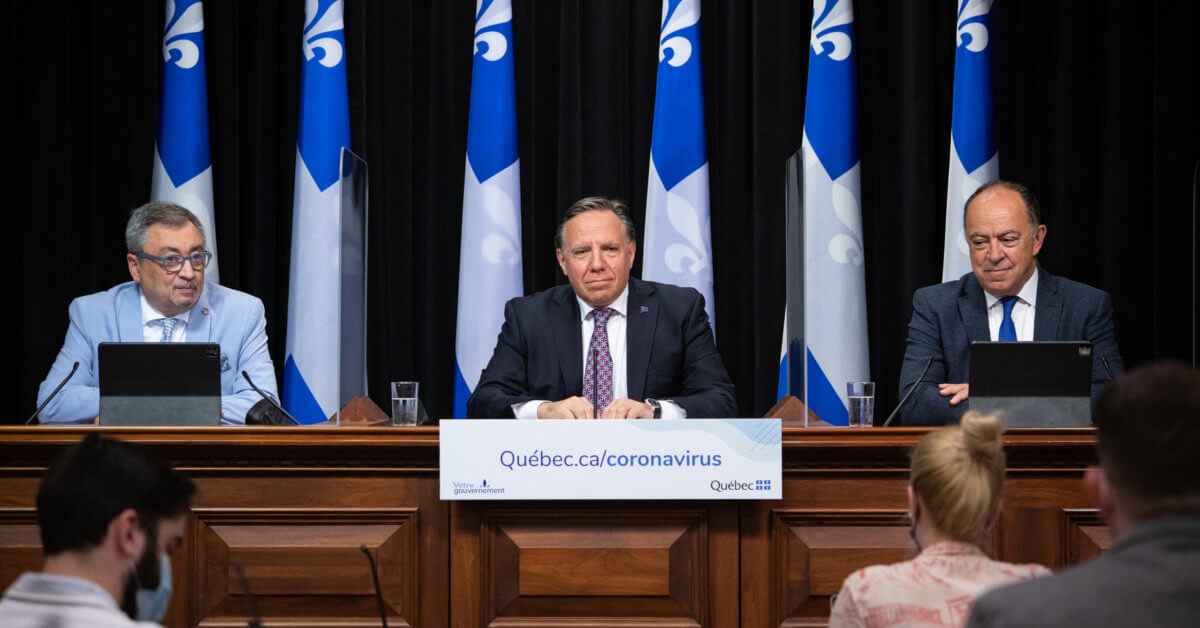 ---
8 June 2021
Quebec Premier François Legault announced today that the target date of June 14 will be reached, with all regions of Quebec returning to the yellow level shortly.
"The situation continues to improve in Quebec. Yesterday, we counted only 150 new cases. Vaccination continues to go very well. Quebec is currently one of the places with the highest vaccination rate in the world! We can be very proud of that. Quebecers are united. Our decontamination plan is working and we can even get ahead of it," explained the Premier.
The following regions or sectors in which measures in the orange zone are currently being applied will move to the pre-alert level (yellow) as of Monday, June 14 at 12:01 a.m:
Capitale-Nationale;
Chaudière-Appalaches;
Eastern Townships;
Montreal;
Outaouais;
Laval;
Lanaudière;
Laurentians;
Montérégie;
Kamouraska, Rivière-du-Loup, Témiscouata and Les Basques (Bas-Saint-Laurent).
Activities for Graduates
Following a recommendation from Public Health, it has been announced that certain relaxations will allow students graduating from high school to celebrate this important milestone.
As of July 8, balls will be able to accommodate a maximum of 250 people outdoors, in compliance with the health regulations in effect.
It is also possible to organize a recognition or graduation ceremony at the green and yellow levels, with a maximum of 250 people, where participants remain seated. Parents are allowed to attend these activities if the maximum number of people is respected.
Remember that youth immunization is an important factor in making these events as safe as possible.
"Graduation ceremonies with parents will be allowed, as long as we keep our distance. As for the dances, it should be noted that a good portion of the youth will be vaccinated by June 24. Starting July 8, dances will be allowed outside. Have a good ball! "said the Prime Minister enthusiastically.
Opening of bar terraces
Finally, as of this Friday, bar terraces will be able to reopen. These new relaxations are scheduled for June 11:
orange tier: two adults from different residences or occupants of one residence per table;
Yellow level: two residences per table;
Green: three residences per table or 10 people from different residences per table.
"To those who have not received their first dose, please go ahead! Now our challenge is for everyone to get their second dose before the end of August. Those who have had the Pfizer vaccine can already move up their appointment. The rest of us will get our second dose in the next few weeks, as soon as we receive the vaccines from Ottawa. Everything is in place for us to have a great summer.
It's all thanks to you. Have a great summer! "
François Legault, Premier of Quebec
"The situation continues to improve throughout Quebec, thanks to the efforts of Quebecers and the vaccination campaign. The news is very encouraging, but we must nevertheless remain cautious, respect the rules that accompany the gradual decontamination and get vaccinated. "
Christian Dubé, Minister of Health and Social Services
Highlights:
As a reminder, as of June 11, supervised sports and recreation will be permitted outdoors in groups of 25 people. These activities will be allowed to be done without contact for the orange tier and with brief contact for the yellow tier.
Related Links:
To learn more about COVID-19 and the measures in place: Québec.ca/coronavirus
A map of alert levels by region is available.
To learn more about the reopen plan and the upcoming relaxations by level: Québec.ca/deconfinement