All regions downgraded from the highest alert level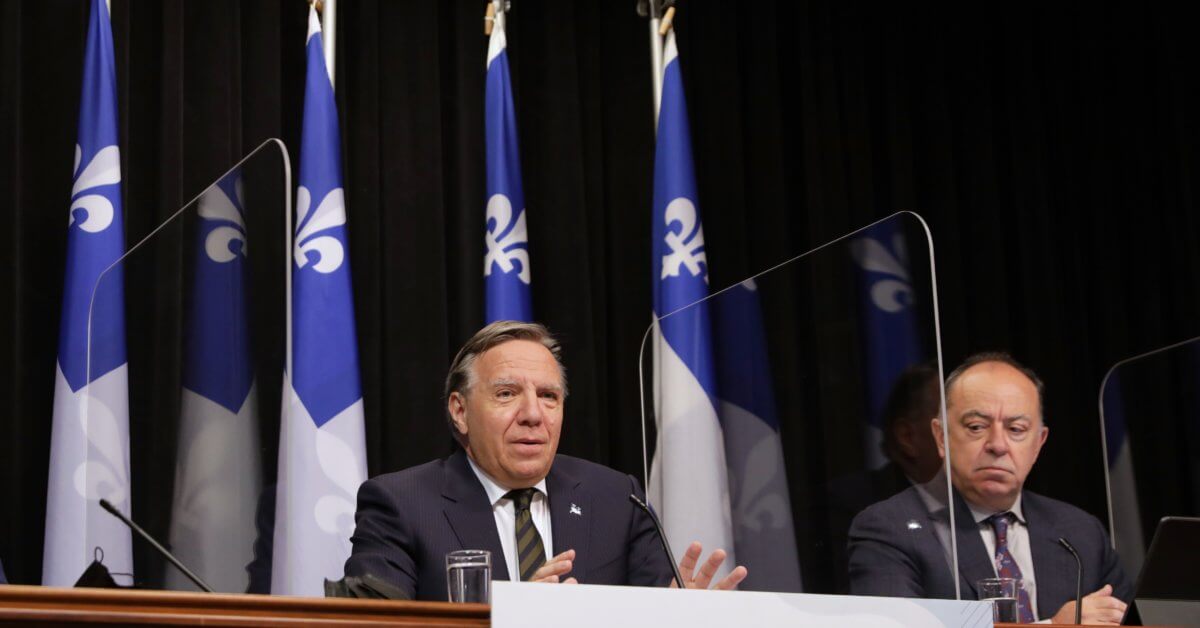 ---
3 June 2021
Quebec Premier François Legault announced today several changes in the alert levels that will take effect on Monday, June 7 at 12:01 a.m. The last sectors that are still at the maximum alert level (red) will then move to the alert level (orange). This means that all regions of Quebec will be in the orange, yellow or green zone.
"Thanks to your efforts, the situation continues to improve. The number of new cases is decreasing everywhere in Quebec. The number of hospitalizations and deaths also continues to decrease. The situation is really very encouraging! Our decontamination plan can therefore continue as planned and, in fact, it will even accelerate a little," explained the Premier.
This means that regions or sectors where red zone measures are currently in place will be moved to the orange level:
Montreal;
Laval;
MRC du Granit (Eastern Townships);
Beauce-Sartigan, L'Islet, Montmagny and Robert-Cliche RCM (Chaudière-Appalaches);
Kamouraska, Rivière-du-Loup, Témiscouata and Les Basques RCMs (Bas-Saint-Laurent).
Several regions or sectors will move to the yellow level:
Saguenay-Lac-Saint-Jean;
Mauricie and Centre-du-Québec;
Rimouski-Neigette, La Mitis, La Matapédia and Matane RCMs (Bas-Saint-Laurent).
Some regions will go green:
Abitibi-Témiscamingue;
North Shore;
Nord-du-Québec.
"I would like to remind everyone to maintain basic sanitary measures, masks, and two-meter distance until we have all received our two doses of vaccine. With only one dose, vulnerable people can be infected. We must absolutely remain cautious, "warned the Prime Minister in the context of the deconfinement that began last weekend.
"Our decontamination plan is going as planned. Moreover, at this time, Quebec is one of the places in the world where the population is being vaccinated the fastest. We need to continue. The more people who get vaccinated with two doses, the sooner we can start our parties again! So make your appointments. We need everyone to get back to normal. "
François Legault, Premier of Quebec
"As of June 7, the last regions that were still at the red level will move to the orange level, and several others may even move to lower alert levels. This is excellent news, and it is thanks to everyone's efforts. The overall situation in Quebec is very encouraging. To have a great summer, we must continue to respect the measures still in place and get vaccinated. "
Christian Dubé, Minister of Health and Social Services
Highlights :
As a reminder, since May 28, relief has been granted in all regions of Quebec:
no curfew;
outdoor restaurant terraces are open (red and orange zones: two people with minor children or occupants of the same residence; yellow zone: occupants of two residences) ;
gatherings allowed on private outdoor property and balconies (maximum of eight people from different residences or occupants of two residences, with distance) ;
removal of travel bans;
easing of rules for large indoor halls and outdoor stadiums with fixed pre-assigned seating.
Related links :
For more information on COVID-19 and the measures in place: Québec.ca/coronavirus