"It is necessary that everyone becomes aware of the danger."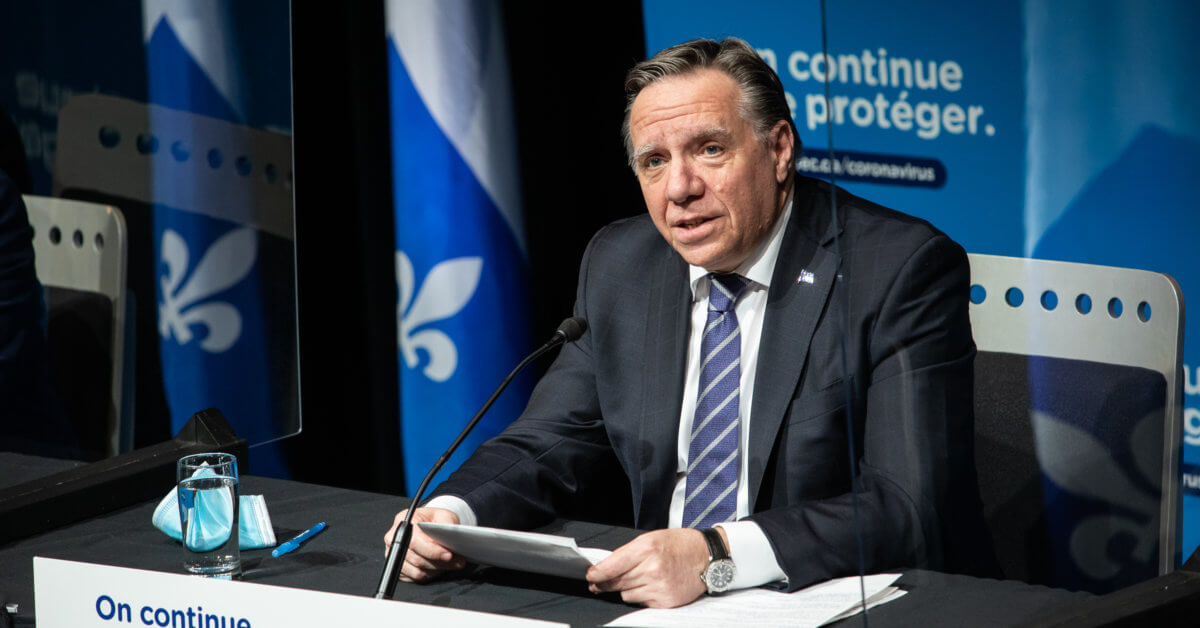 ---
8 April 2021
Given the alarming situation in the Capitale-Nationale, Chaudière-Appalaches and Outaouais regions, Quebec Premier François Legault today announced the extension of special emergency measures until April 18 inclusive, for an additional week. "In these three regions, the virus is present everywhere, in all environments, and it affects all generations. There are probably people with the virus in your neighborhood. We absolutely have to reduce contact to protect your family and to protect our hospitals," the premier said.
The special emergency measures have been extended in the Communauté métropolitaine de Québec, the city of Gatineau and the MRCs of Collines-de-l'Outaouais, Beauce-Sartigan, Bellechasse, Etchemins, La Nouvelle-Beauce and Robert-Cliche.
These exceptional measures were to be in effect until April 12. However, given the marked increase in the number of new cases and outbreaks over the past few days, combined with an upward trend in hospitalizations, it is not feasible at this time to lift the measures in effect and risk the situation worsening even further.
Curfew in Montreal and Laval
In addition, starting Sunday, April 11, until further notice, the curfew will be brought forward to 8:00 p.m. in the Montreal and Laval areas. The curfew is currently in effect between 9:30 pm and 5 am. This decision was made based on the latest data in order to limit contact in these two health regions. "Despite the remarkable work of the Montreal and Laval Public Health Departments, the contagion is expected to accelerate. Because these regions are densely populated, with the presence of variants, the risk is higher, we must act preventively, "said the Prime Minister.
Travels in yellow and green zones prohibited
Finally, it is forbidden for a person whose main residence is located in the regions of red and orange alert levels to be in a yellow or green zone. These measures are intended to limit the spread of COVID-19 in regions or territories where the situation is currently under control.
"We need everyone to be aware of the danger. The virus is everywhere. The variant is more contagious, more dangerous. I ask you to reduce your contacts. This weekend, stay with your family bubble. That's the only way to stop this third wave. "
François Legault, Premier of Quebec
"We had hoped that the situation would improve, but we have to admit that with the variants, the epidemiological picture can change very quickly, and that is what is happening in some regions. We're at a critical point in our immunization operation, including opening up to new priority groups, but the virus is still circulating. Everyone needs to follow the instructions to end the pandemic. "
Christian Dubé, Minister of Health and Social Services
Highlights:
The objective of the special emergency measures is to slow down transmission, in a targeted manner, in one or more sectors, where a significant increase in cases is observed, and to prevent hospitalizations and deaths. These measures are intended to last for a period of time but may be extended if no significant improvement is observed or if the situation continues to deteriorate.
These measures include
curfew in effect between 8 p.m. and 5 a.m. ;
online learning for primary and secondary school students (school closures);
closing of cinemas, theaters, and museums;
closing of restaurants (except for delivery and take-out);
closing of non-essential businesses;
the prohibition for businesses to sell non-essential products;
a limit of 25 people in places of worship;
outdoor sports or recreational activities permitted only with persons residing at the same address or by a group of 8 persons with a distance. Groups of 3 or more persons not residing at the same address are required to wear face coverings unless they remain seated with distancing. One person may be added to the group to provide supervision.
outdoor swimming pools in hotels remain closed, as well as spas;
Indoor sports or recreational activities are prohibited in all indoor public places, including workout rooms.
Also, as announced on April 6, several adjustments to the red and orange tiers are effective today.