GIVE BACK THE EAST TO MONTREALERS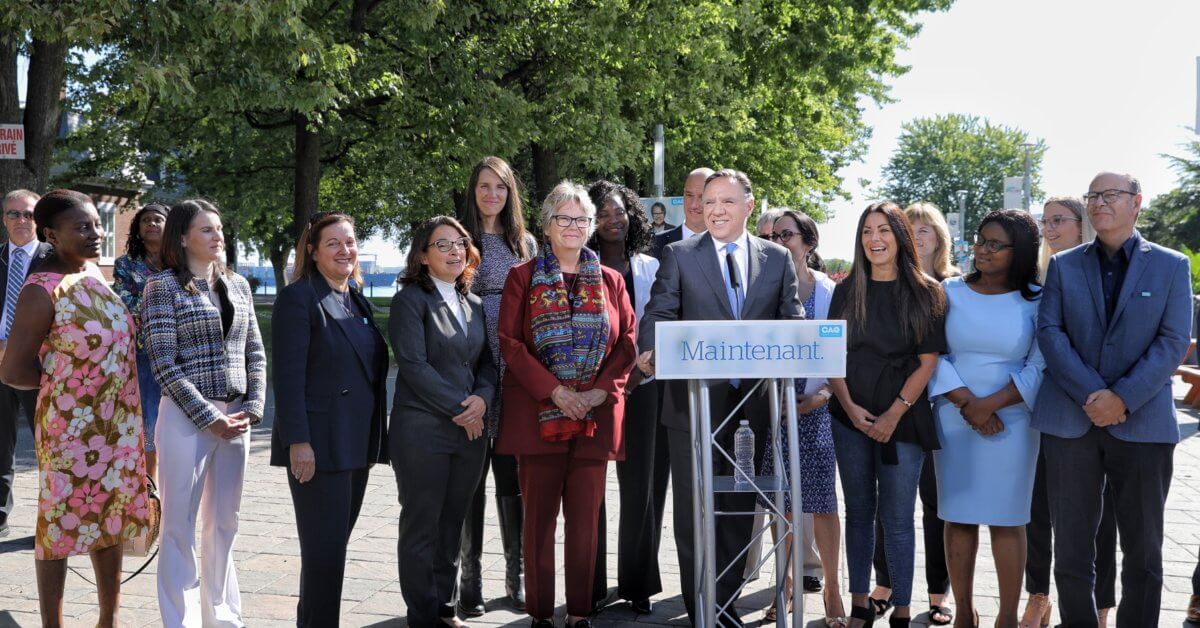 ---
7 September 2018
KEY POINTS :
Clean-up of contaminated areas in the eastern part of Montreal Island
Restart of Notre-Dame Street modernization project
Create a tramway line linking the eastern tip of the island to downtown
Accompanied by Chantal Rouleau, candidate in Pointe-aux-Trembles and by the other CAQ candidates for east of Montréal ridings, François Legault announced an ambitious plan to give back that part of the island to Montrealers. "After years of neglect by PQ and Liberal governments, a concrete and ambitious strategy is needed to put the eastern part of Montreal on the road to prosperity", the CAQ leader said.
There is no doubt the end of refining activities at the beginning of the decade has badly hurt the economy of east Montréal. Its repercussions are still felt to this day. "Not only this part of the island has lost thousands of jobs and local businesses have suffered, but it is stuck with vast, abandoned and heavily polluted industrial spaces", the CAQ explained.
According to a study, vacant areas in East Montréal represent 846 hectares, which is more than twice the surface of Outremont. It is estimated that 70% of those are contaminated. Businesses of the area cannot develop these zones, not to mention their health risk for surrounding citizens.
A CAQ government will act. "We will create a special 200-million-dollar fund dedicated to this clean-up operation. Investissement Québec will manage the fund and will work with municipal authorities to list areas to decontaminate and determine their future vocation and favoured development scenarios", the CAQ leader said. This vast decontamination project of the eastern part of Montréal Island represents the first step to creating an innovation zone.
A CAQ government will also attack the monstrous traffic problem in the eastern part of the city. The Notre-Dame Street modernization project will be restarted and completed. "We will finally complete this project that gathers a wide consensus and has passed all approval processes. It's more than time to get it done!", Legault said.
Public transit will not be forgotten. A CAQ government will also get a tramway project on track to link the tip of the island to downtown and Marie-Victorin CEGEP to Radisson metro station. Not only will the tramway offer commuters an alternative to driving, help reduce road congestion and make transportation more fluid, it will also lessen noise pollution and greenhouse gas emissions. This proposal comes from the CAQ plan to alleviate road congestion in the metropolitan region made public earlier this year.
These three projects represent investments of $2.6G until 2030. "If we want things to change in east Montréal, we need to start by replacing this government. Both the PQ and the Liberals have forgotten about this part of the island for 30 years. The only party that has the team to do more the east of Montréal is the CAQ."
QUOTES:
"The East of Montréal must get back on the road to dynamism and prosperity. We will help make that happen with 2.6 billion dollars of investments until 2030. No other political party is proposing to do more for the eastern part of the island than the CAQ. We will give back the east to Montrealers!"
– François Legault,
L'Assomption MNA and Coalition Avenir Québec leader
"Some say Coalition Avenir Québec is not a Montreal party. That makes no sense. The CAQ has a concrete vision of the economic and social development of Montréal. Our team will get to the National Assembly after October 1st with suitcases full of projects!"
– Chantale Rouleau,
Coalition Avenir Québec candidate in Pointe-aux-Trembles