A national policy for caregivers : help for caregivers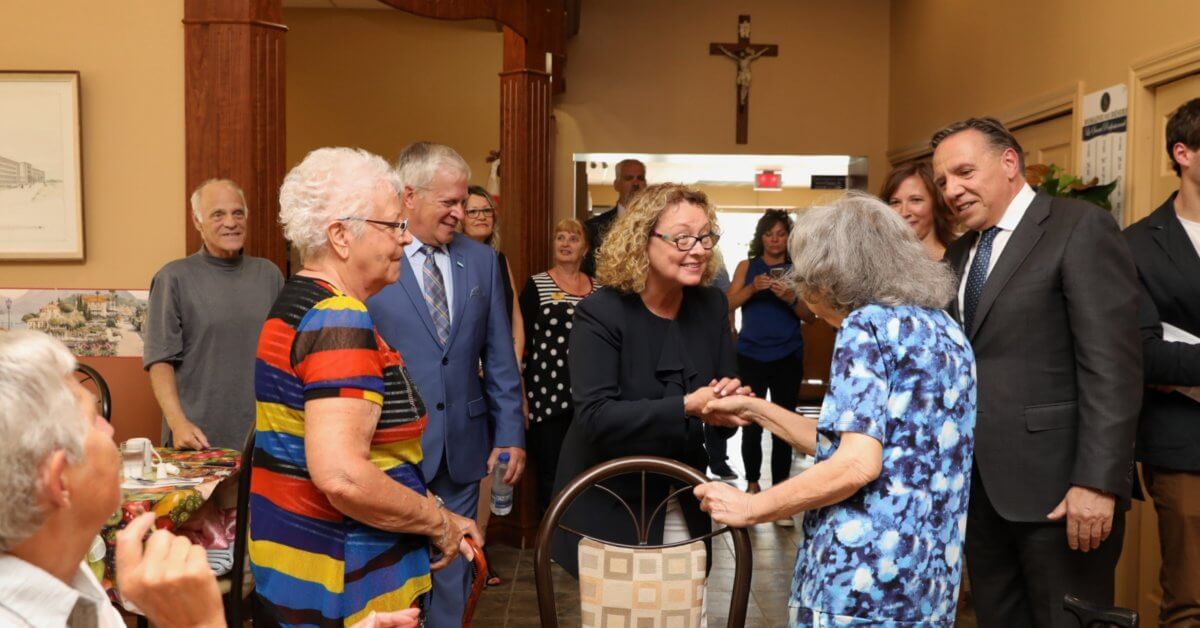 ---
4 September 2018
KEY POINTS :
Double tax credit for caregivers, up to a maximum of $2,500.  
Support construction of 20 Gilles-Carle houses  
Adopt the first national policy on caregivers 
Create a Caregiver Observatory  
Ensure survival of the Caregivers Help Fund 
Together with candidates Isabelle Lecours for Lotbinière-Frontenac and Marguerite Blais for Prévost as well as Lévis MNA, François Paradis, CAQ leader François Legault announced this morning his intention to improve living conditions and support provided to caregivers.
"In Québec, 1.6 million people work hard each day for a relative or friend they love, 1.6 million people the Liberals have too often neglected", emphasized Legault. These men and women who care for their life companion, a parent or a handicapped child are true heroes. As a society, we have the obligation to help them.
"Without caregivers, the healthcare system would have to take responsibility for thousands more elderly people and disabled children," explained Legault. According to him, the contribution of caregivers must be more recognized, legally and financially.
François Legault announced a CAQ government intention to enhance tax credits for caregivers to a maximum of $2,500. Also, to provide more respite to them, a CAQ government will participate in the construction of 20 Gilles-Carle houses in the next 10 years. These will be built in partnership with the Maison Gilles-Carle Foundation. "This foundation is a model that should inspire us to help caregivers across Québec," said Marguerite Blais, who considers today's announcement is the most important of his political career.
The Coalition Avenir Québec leader also commits to the adoption of the first national caregiver policy in the province's history. His government will consult all stakeholders: community organizations, researchers and the Regroupement des aidants naturels du Québec to establish priorities, workings and funding for this future structuring policy.
The CAQ will also create a Caregiver Observatory and makes the commitment to invest at least $ 15M yearly to ensure the survival of the Caregivers Help Fund, starting in 2021. As well, a CAQ government will set up a specialized coordinator team and implement an intervention plan (medical record) for caregivers. The CAQ will adopt a concrete, human approach.
"The Liberals have been there for 15 years and nothing has been done. If we want things to change in Québec, if we want to do more and do more for caregivers, we must replace this government. The only party that can beat the Liberals and form the next government is the CAQ," François Legault said.
QUOTE:
"Caregivers are exhausted. They can't get the rest they need, even if they are propping up a major part of the healthcare system. These people are heroes, but they have largely been ignored by the Liberals. I tell them, go vote for change. If enough of you do so, in less than a month, help will be on the way."
– François Legault, L'Assomption MNA and Coalition Avenir Québec leader