CAQ introduces «economic brigade»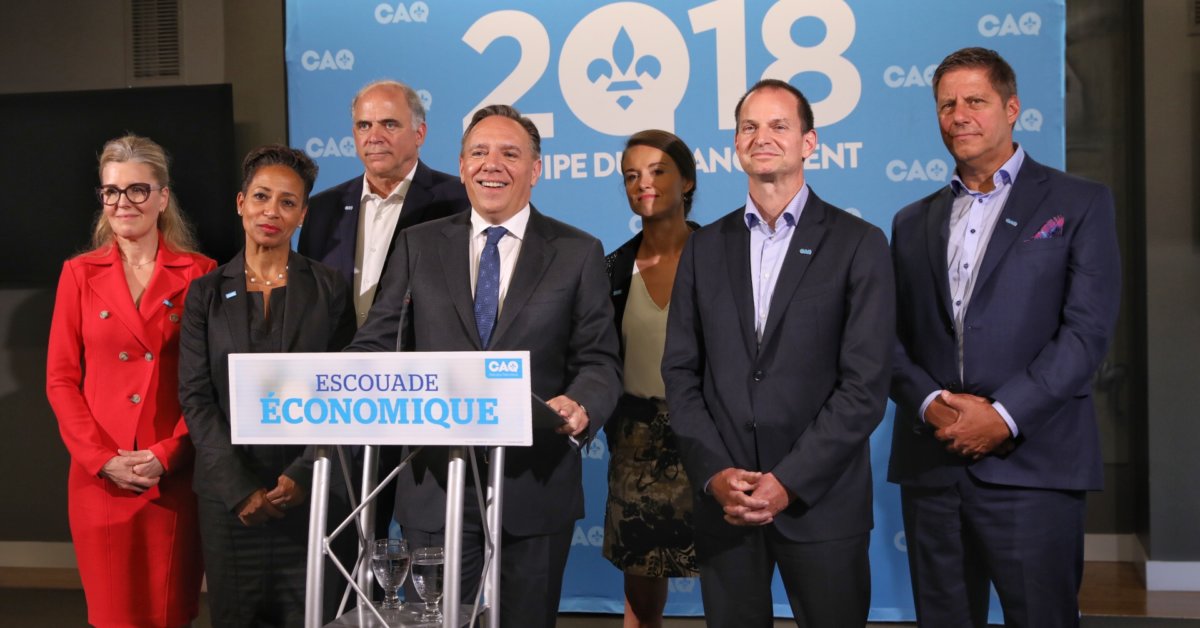 ---
29 August 2018
KEY POINTS :
François Legault took advantage of his visit in Beauce to introduce 6 highly qualified candidates of his economic brigade.
The CAQ leader underlined the importance of promoting entrepreneurship, generating success stories and supporting Québec entrepreneurs for the elected government. A CAQ government intends to do just that.
To support entrepreneurship a CAQ government will fund four additional schools offering entrepreneurship programs. It will create a scholarship program for the Beauce School of entrepreneurship and will add a section on entrepreneurship to the high school financial education program offered to Secondary V student.
If elected October 1st, François Legault will instruct his team to thoroughly analyze the role of Investissement Québec, and to reduce the heavy bureaucracy that currently impede the growth of many businesses.
Visiting Beauce's school of entrepreneurship, Coalition Avenir Québec leader, François Legault presented part of his "economic brigade", three women and three men who have had impressive success in business, including Éric Girard, former treasurer and vice-president of the National Bank of Canada; Nadine Girault, a specialist in organizational change and former financial institution vice-president; Joëlle Boutin, a leading woman entrepreneur and digital specialist; Gilles Bélanger, engineer and successful businessman; MarieChantal Chassé, who is president and general manager of a leading aeronautics company, and finally, well-known business leader Pierre Fitzgibbon.
Proudly surrounded by his candidates, François Legault emphasized that despite their 15 years in power, the Liberals have failed to nurture a thriving entrepreneurship ecosystem in Québec. From 2011 to 2016, the number of Québec entrepreneurs has shrunk from 182,500 to 171,000, a loss of 2,300 per year.
If it comes into office October 1st, the CAQ will support and promote entrepreneurship, business creation and development through three concrete measures. A CAQ government will start by creating a scholarship program, under the form of loans of honour, to allow Québec entrepreneurs to attend the programs offered by the Beauce School of entrepreneurship. François Legault also said that his eventual government would introduce a section on entrepreneurship in the financial education program offered to Secondary V students and will create 4 new schools, in Saguenay–Lac-Saint-Jean, Chaudière-Appalaches, Montérégie and the Laurentians, in addition to the three regional schools already funded as part of the Oser entreprendre plan.
A François Legault government will also proceed to an in-depth revision of the role played by Investissement Québec and will reduce governmental bureaucracy that is currently holding back many Québec businesses.
QUOTE :
"More and more ambitious men and women dream of taking over a business or of starting their own. To support them and give them the means to make that a reality, the CAQ is presenting a very strong economic team, people who are highly competent and experienced in public sector management, in business and in entrepreneurship. This is a true economic brigade that will serve Quebecers, our entrepreneurs and our economy."
– François Legault
L'Assomption MNA and Coalition Avenir Québec leader