Candidature announcement for Pointe-aux-Trembles : Chantal Rouleau will represent the CAQ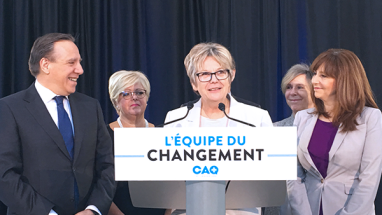 ---
27 February 2018
The Coalition Avenir Québec marks an important move in in recruiting the mayor of the neighbourhood Rivière-des-Prairies-Pointe-aux-Trembles, Chantal Rouleau, who will be the candidate for the riding of Pointe-aux-Trembles in the 2018 general elections. The leader of the Coalition Avenir Québec, François Legault, is extremely proud and honoured to be able to count on a woman of such magnitude as a part of his team on the island of Montreal.
Chantal Rouleau intends to use her accumulated experience in recent years to continue serving the citizens of her riding. "I am first and foremost a woman from East Montreal. It's my home,and it's my passion. Many decisions that have impact here are made in Quebec City. I am thinking in particular of public transit, which is a big concern in eastern Montreal. The riding of Pointe-aux-Trembles has enormous potential. But to develop paying jobs, create wealth, enhance the territory, you need the will, the courage and the political power. I have this desire and I want to look for ways to achieve it on October 1st 2018″, she said.
The CAQ candidate affirms that it is more than necessary to improve the public transportation in the East of Montreal. " Until now, there have not been any propositions for public transport in the East of Montreal. Our neighborhood has been abandoned by the liberals. This era is coming to an end. A CAQ government is prepared to study all the possible projects in order to find the most advantageous solution at the best cost possible" assured Chantal Rouleau.
A strong message to Montrealers
For François Legault, Chantal Rouleau's candidature sends a strong and clear message to Montrealers : "We are serious. Montreal can and must be a part of this change. As you can imagine, Chantal has the experience and the influence to make the voice of Montreal heard in a CAQ government. I am very happy and very proud to count on her. Chantal : welcome to the team for change", highlighted the leader of the CAQ.