Priorities of the parliamentary session : The economic record of Phillipe Couillard will be tackled head on by François Legault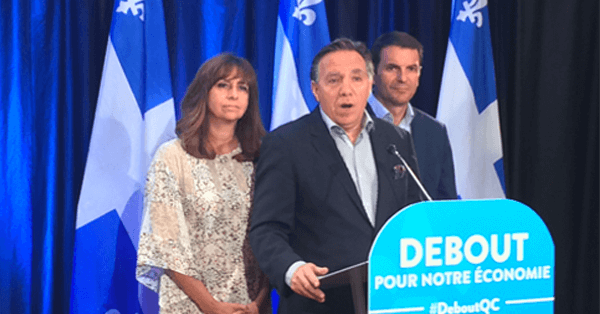 ---
29 August 2016
The economy of Quebec will be the major concern of the Coalition Avenir Québec: this was the message sent by the head of CAQ, François Legault, on the first day of the pre-sessional caucus of the political party.
As soon as the parliamentary activities begin, the CAQ will make a point to hold Philippe Couillard accountable for his disastrous economic results.
We've had enough of the improvisation of the liberals, says the head of the CAQ. In all the cities and municipalities that he visited during his regional tour, François reported meeting tens of entrepreneurs, regional leaders and citizens who have all expressed concerns about the current state of Quebec's economy.
"The observation which stands out is very clear: Quebec can do better. Our families have less and less money in their pockets. Citizens have the feelings of not being listened to. Regions are left to themselves. Enterprises have many projects but have to wait after Hydro-Québec or after Investissement Québec. Instead, the liberal government is dragging its feet. It has no leadership. It lacks ambition in economic matters. The Liberal party doesn't serve Quebec anymore. Since its election in 2003, it is only serving its own interest. The party forgot about the general interest and is only governing to maintain itself in power ", explains the head of the CAQ.
On the employment side, it's a free fall. Since the beginning of the year, 2 800 jobs have been lost, reminds us François Legault, while Philippe Couillard had promised us 250 000 jobs  in 5 years, meaning 50 000 per year. The weakness of employment rates calls for strong measures to stimulate our economy. "Quebecers deserve a government whose obsession will be to create good jobs, just as will be the government of the CAQ. Since the election of April 2014, 28 months ago, only 43 100 jobs have been created. You can count on me to ask Philippe Couillard, day after day, where are the jobs that he had promised" ensures François Legault.
It is high time to put an end to the liberal monopoly, which has fully demonstrated its harmful effect on our economy. This is the reason why the head of the CAQ is really determined to become in 2018, the first economic prime minister in 20 years in Quebec. "While Phillipe Couillard is asking himself how to handle his Council of Ministers, the Parti Québécois is obsessed by the next referendum on sovereignty.  This can't go on. Quebec needs a big breath of fresh air. To all the Quebecers, I am saying, the CAQ will stay focused. During the next parliamentary session, the CAQ will continue to stand tall for the economy, for the education and for our identity", concludes François Legault