The CAQ Appoints Bruno Laroche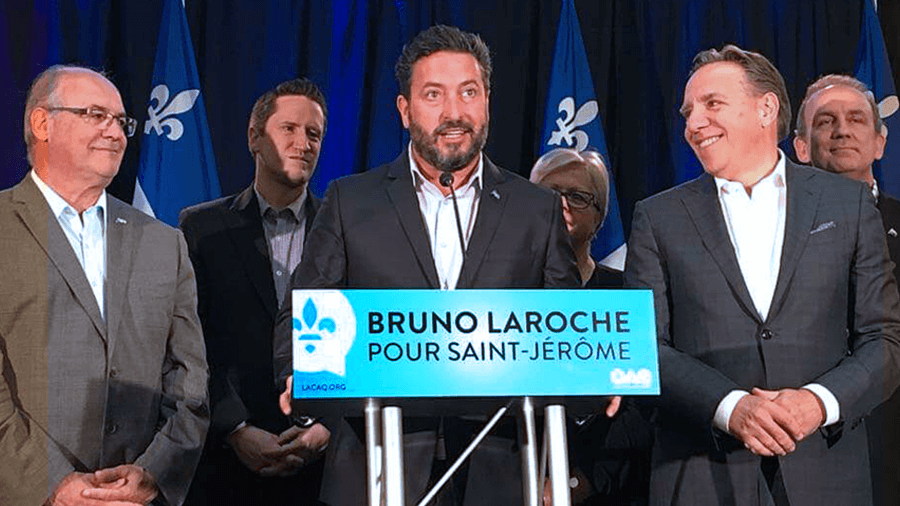 ---
16 June 2016
On Thursday, CAQ Leader François Legault announced that the prefect for the RCM of Rivière-du-Nord and mayor of Saint-Hippolyte, Mr. Bruno Laroche, will be wearing his party's colors for the upcoming by-election in Saint-Jérôme.
"Bruno is a passionate man. He is very familiar with the region. We couldn't have asked for a better candidate. He is a major political player in this community. He is close to the people, he knows their concerns, and he is ready to fight for them. His municipal experience reveals a proven track record", stated the CAQ Leader.
"During the years, and throughout the tasks assigned to me in the municipal, I have developed a very thorough knowledge of the issues that matter to the citizens of this region. I am convinced that the CAQ is the only party that can relate to these matters, and that is ready to replace the Liberals in 2018. I sincerely feel that I am the most suitable candidate to represent the citizens of Saint-Jérôme. I will fight at the National Assembly to make sure that their utmost concerns echo throughout Québec!" expressed Bruno Laroche.
Saint-Jérôme's Health Matters
Although the campaign hasn't officially started, Bruno Laroche openly stated that matters of health will be among the hot topics. "The access to health services in Saint-Jérôme is disappointing. Gaétan Barrette's Liberal reforms are failing miserably here in Saint-Jérôme", stated Mr. Laroche, providing factual figures.
"Our health system is overwhelmed, often leaving our patients overlooked. This situation must not persist; for over 13 years, the Liberal approach has been proving to be ineffective. And have you heard the PQ address health matters recently? The answer is no! The PQ is completely out of touch, and cares only about its leadership race, internal debates, and referendum", continued François Legault.
The CAQ Leader guarantees that his party will deliver a creative campaign that will touch the citizens of Saint-Jérôme. "Bruno's campaign will address your very concerns; in topics like health, preschool at 4 years, and high-paying job creation. He will also defend the public against further tax hikes. The citizens of Saint-Jérôme will have the opportunity to be represented by a strong voice that will carry their message to the Liberals. That voice, is the voice of the CAQ", concludes François Legault.
Mr. Laroche made his hands-on debut in politics as city councillor for Saint-Hyppolite in 1997. The field man, who is well known in the region, has been its mayor since 2009. He has also been a prefect for the RCM of Rivière-du-Nord since 2013. For nearly two years now, he has been the president of the Laurentian board of prefects. He is also a father of three.