Job Creation: Our Figures Pale in Comparison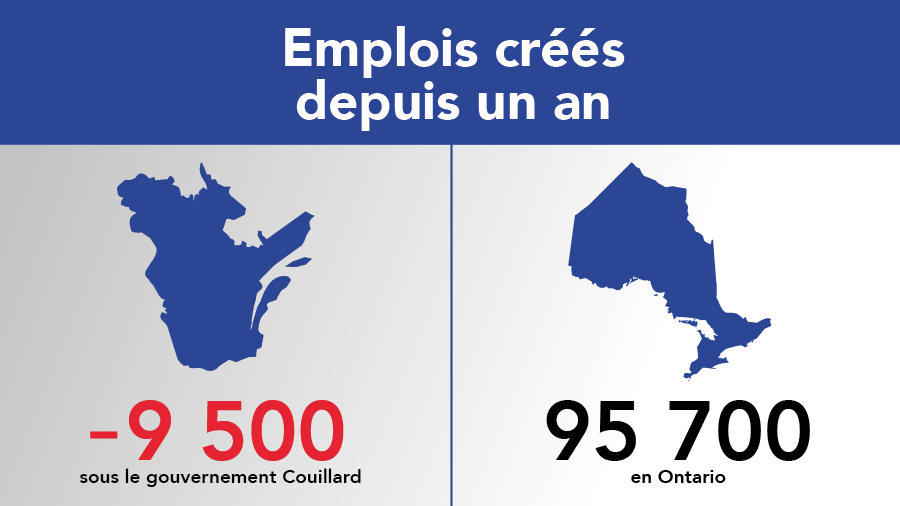 ---
6 May 2016
Halfway through its mandate, Philippe Couillard's Liberal government may no longer deny the facts; Quebec's performance is poor in matters of job creation and economic growth. This sad realization was expressed by the CAQ critic for the economy, André Lamontagne, following an employment data release by Statistics Canada on Friday.
"It is certain that in matters of job creation, Quebec's figures pale in comparison. The government may keep telling us glamorous tales and making fancy announcements, but the numbers speak for themselves", stated André Lamontagne. In fact, 9,500 jobs were lost in Quebec during the last year; in comparison with 95,700 jobs created in Ontario, and 153,500 elsewhere in Canada.
"There is no excuse for Ontario to thrive while we wither away. We will repeat it over and again, Quebec has all the potential to be wealthier! We lost 700 full time jobs in a year, while our neighbours created 67,000. The first step for the Liberals would be to acknowledge their failure, and to finally present a bold plan with detailed employment creation targets. We have an urgent need for an ambitious economic vision", according to the member for Johnson.
Mr. Lamontagne also notes that the manufacturing sector is clearly suffering, having lost 1,400 jobs in one year. The CAQ believes that it is through innovation and increased productivity, that our organizations will be able to penetrate international markets. The party proposed a Fund of 5 billion dollars over 5 years, in order to modernise the manufacturing sector. "At the CAQ, we are certain that Quebec has all the means to perform even better than Ontario!" concluded André Lamontagne.