$16,000 "Pastafarianism" Study: Couillard Must Call His Minister to Order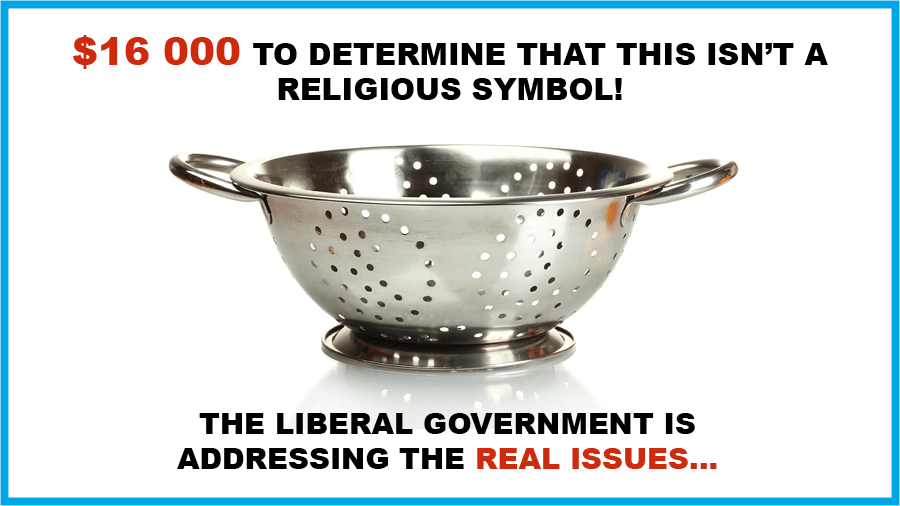 ---
22 April 2016
Quebecers have had enough of seeing the Minister of Transport, Jacques Daoust, making improper jokes about the $16,000 wasted by his ministry, in the study a frivolous religion. The CAQ believes that Jacques Daoust should have expressed his regret as an alternative to a boastful display at the parliamentary commission. Thus, the CAQ is asking Philippe Couillard to call his minister to order, and is awaiting for an official representative of the government to acknowledge that this expense was a mistake.
The CAQ critic for secularism, Nathalie Roy, is having serious doubts on whether the Liberal ministers have any value for money. Let us recall that only two weeks ago, Rita De Santis said that $150,000 is "peanuts".
"I am wondering if this government understands the value of money! If $150,000 is peanuts, what is $16,000? Evidently, for Jacques Daoust and his colleagues, $16,000 is breadcrumbs; but for millions of taxpayers, who wake up every morning to go to work, and who pay their taxes, it is a significant sum. Instead of excusing himself to the general public, Jacques Daoust opted for bad jokes, giggles in the corner, and condescending smirks. He even sent a cry out for all the "Pastafarians" to "behave". Instead of being ashamed of this waste of public funds, he roared with laughter in front of the entire population. $16,000 for tasteless jokes seems like a hefty price to pay. I am asking the Prime Minister, Philippe Couillard, to restore order, and to have his minister apologize to the taxpayers", thundered Nathalie Roy.
According to Jacques Daoust, it is none other than Stéphanie Vallée who has instructed the prosecutors to take matters to the Superior Court, thus spending the precious time of Quebec's judicial system. Therefore, Nathalie Roy is demanding that both ministers communicate, and punish the individuals responsible for this ridiculous affair, in their respective ministries.
"No one in the government, has yet acknowledged that this was a mistake. It is incredible; the government would not assume responsibility, after having spent $16,000 to find out whether wearing a pirate costume and a spaghetti colander constitutes a religion. Instead of laughing foolishly, they should ask themselves serious questions, and make sure that this type of situation never repeats itself", concluded Nathalie Roy.