The CAQ Reveals a $77.5M Bonus for School Boards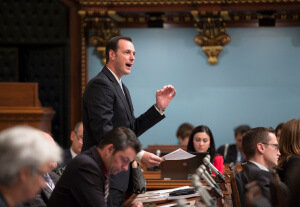 ---
20 April 2016
Quebec school boards paid out over 77.5 million dollars in grants and bonuses to their non-teaching staff, revealed the CAQ on Wednesday, at the National Assembly.
"It is an outrage! The year 2014-2015 was a very difficult one for the education system. The students were the first victims of the budget cuts by the Liberal government. The ones with learning difficulties were hit first. I have taken a stand on numerous occasions, in order to contest these cuts. I found it unfortunate that the school boards had to resolve to a 44 million dollar deficit, in order to maintain student services. Today, everything is clear; instead of providing the services to our youth, 77.5 million dollars were given in grants and bonuses to non-teaching staff. The money could have been used to hire at least a thousand professionals who would provide student services. Yet, in 2014-2015, the money didn't fulfil this purpose! It is sickening", condemned Jean-François Roberge, facing an overcome Minister of Education.
The member for Chambly expressed his heartfelt thoughts, to all the parents of children with learning difficulties, who aren't receiving the help they need. "I think about the mothers of children in difficulty, who accompanied me on three occasions to denounce that their young ones are not receiving the care that they deserve. I am thinking about all the Quebecers who work hard, pay taxes, and learn that 77.5 million dollars were given in grants and bonuses to the school boards, at our children's expense. How can the Minister justify such a misappropriation of funds?" asked Jean-François Roberge, and received no answer.