The Liberals: A Perfect Storm in Education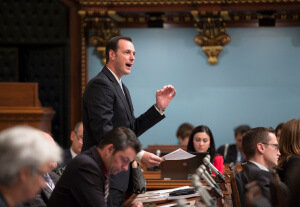 ---
14 April 2016
No vision, empty election promises, four ministers, and chronic uncertainty: The Couillard government has created a "perfect storm" in education, denounced MNA Jean-François Roberge.
The CAQ critic for education especially resents the government's withdrawal in matters of school elections, after having promised to abolish them.
"I am telling you, a perfect Liberal storm. It goes on, while the minister of contradictions executes a triple axel on the question of school elections for 20 million, the students in difficulty are being denied the services that they deserve", denounces the member for Chambly. "What he does is by far more significant than what he says. While he says that he is investing for success, he cuts in special education teaching positions. Next year, in the Montreal school board (CSDM), there will be 20 to 40 less special education teachers available to the students who are most in need. What the minister says and what he does are two completely different things, flip-flop…" continues Jean-François Roberge in the Journal de Québec.
The Minister of Education, Sébastien Proulx, has also admitted that he is ashamed of the physical state of our schools.