The CAQ's New Website Against Barrette's Parking Fees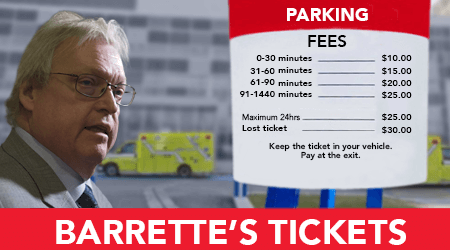 ---
14 March 2016
Coalition Avenir Québec has launched an online campaign aiming to persuade Gaétan Barrette to put an end to the unfair and abusive parking rates at the hospitals. The party's new website: www.lesticketsdebarrette.com, was created for aggrieved citizens to run the Minister's electronic inbox with the details of their parking expense.
After receiving thousands of calls, emails and social media messages, the CAQ's health critic and member for Lévis, François Paradis, sees this measure as "giving Gaétan Barrette a taste of his own medicine", through a signed petition and the details of events on the field. The CAQ's internet campaign allows the public to email the Minister directly about the costly bills.
"Upon my speeches at the National Assembly, a great number of you called, wrote and informed about your concerns and anger, which are legitimate. It is known that parking rates in hospitals are excessive: 12 hospitals in Quebec, 9 out which are in Montreal, charge at least $15 per day. This unfounded practice affects all Quebecers, but especially the elders, the chronically-ill and individuals with reduced mobility. Instead of helping these people, who are in need for care several times every week, by providing affordable parking in proximity, the Liberal party stands idle as the hospitals exploit them. I want all Quebecers to give the Minister an account of what they have to pay. I want him to understand that his parking fees constitute a barrier to healthcare access", stated François Paradis, while inviting Quebecers to visit www.lesticketsdebarrette.com.
MNA Paradis, repeats that his political party has advanced many proposals to put an end to these abusive fees; measures such as the first two hours free, and a daily maximum rate ranging between 7 to 10 dollars (at facilities where the daily maximum rate is higher than these amounts). François Paradis also demands reduced rates for patients who attend facilities on a regular basis. "I am convinced that Quebecers will support our efforts. Health Minister Gaétan Barrette needs to realize that the patients, and their families, are not attending hospitals for fun, but out of necessity. Make him reconsider: Send your bill to Barrette!" concluded the member for Lévis.