3,200 Jobs Lost in January: Couillard's Objectives Failed.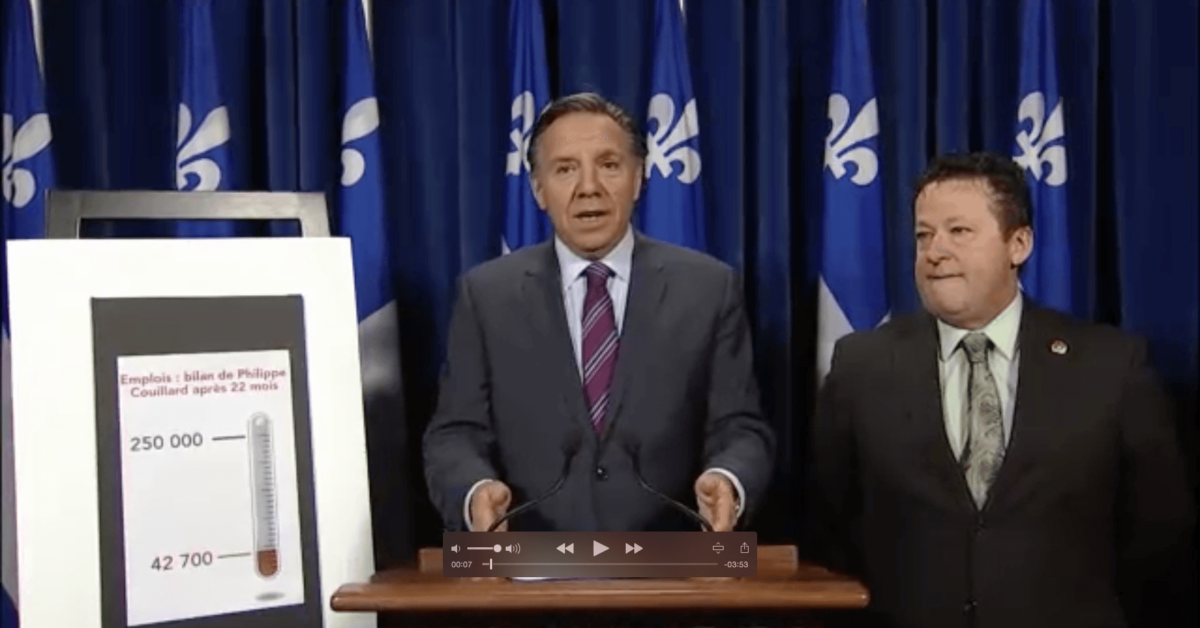 ---
5 February 2016
The employment report by Statistics Canada for the month of January highlights the loss of 3,200 jobs. Prime Minister Philippe Couillard can no longer make absent claims. His economic balance sheet is still poor, and he has a long way to go in order to put Quebec back on the path to prosperity, stated Coalition Avenir Québec Leader and member for L'Assomption, François Legault.
At this rate, the Liberal Leader is on his way to breaking one of his key campaign promises: Creating 250,000 jobs until the end of his mandate. Today, there's no longer a single Quebecer that believes that Philippe Couillard will keep his word, indicated Mr. Legault. "We are at the middle of the term, and only 42,700 jobs have been created. After 22 months, it is a proof that the promise by Philippe Couillard to create 250,000 jobs is dead and buried. We have yet to witness whether the Prime Minister will have the courage to tell Quebecers the truth", said the CAQ Leader.
The most recent employment report made public on Friday by Statistics Canada, is confirming the lack of vision and ambition by the Liberal government in matters of economy. Had they implemented a sound manufacturing policy to replenish the economy, Quebec would be able to turn a strategic benefit from the fall in oil prices and Canadian currency, as well as from the economic growth of the United States, highlighted Legault. "Philippe Couillard can keep telling us that the numbers are not important, but behind these numbers there are workers and families that face uncertainty", he mentioned.
The CAQ Leader continued by reminding that his party has committed to create a Fund of 5 billion dollars over 5 years, to revamp the manufacturing sector and to incite our organizations to invest more and become competitive on a global scale. The CAQ has equally demanded a $500 tax reduction starting this year for every Quebecer earning $150,000 yearly or less, to stimulate household consumption in every region in Quebec. "Since the beginning of the year, I have proposed two resilient measures to invigorate our economy. We need to act now to replenish and develop our economy. These are two building blocks by the CAQ that I hope will inspire the government in creating prosperity for all Quebecers", concluded François Legault.